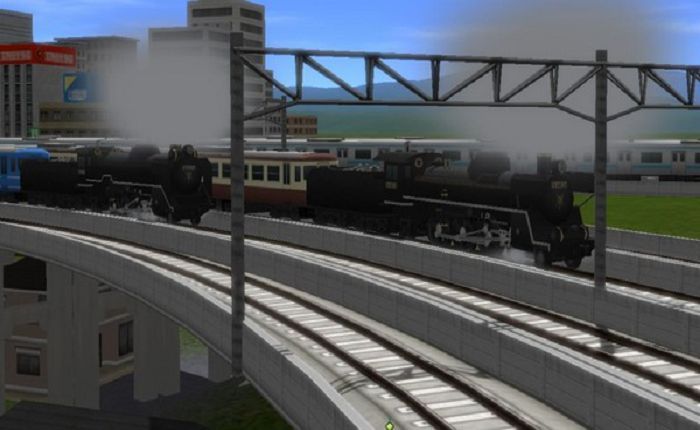 A-Train 9 V4.0 Japan Rail Simulator
About This Game
A-Train is back, and better than ever.

The biggest and best city builder, transport simulation game returns with a host of new features.

Drive a train! Actually step inside the cab and take control.
New control options.
Speed restricted track ensure your trains arrive when they are supposed to
Vehicle groups give you the vision you need to control up to 200 trains
New track layout options. The offset X junction, very handy for your marshalling yards and control of the entrance to sprawling muti-platform stations
New road flexibility. City blocks and roads that run at 45 degrees to add greater flexibility to your cities and allow more realistic city-scapes to be built.
All With more trains, buildings, trackside objects than ever
What's New in A-Train 9 V4.0 : Japan Rail Simulator
The new version of A-Train has a stack of new features that focus on the two most important aspects of gameplay; realism and control.
Realism
A-Train is about creating working, profitable cities built around a strong transport network. Over the years we have seen our players create some fantastic cities, a scale and scope of which is staggering.
Whether it is the painstaking re-creation of 100 km² real-life cities, or imaginative sprawling utopias, A-Train has always allowed the player to use their imagination. The latest version increases the scale and scope of the game 100%.

Twice as many vehicles can be placed on landscapes with twice as many art assets. More road and track-side features with new levels of flexibility in the way that road and rail are built.

The player can now use these tools to create more realistic and involved cities either from real-life or from their imagination.

This extra realism is balanced by some great new control options which work at both the individual vehicle level and the management control level of the game.
Driving A Train
Have you ever wondered what it might be like to actually drive one of your trains?

To actually experience the challenges the engineers may face in keeping to the speed limit, providing a comfortable ride, and delivering the goods and passengers on time?

Well now, in A-Train 9 V4 Japan Rail Simulator, it's possible to step on board the footplate and take control. Either from the first-person engineers point of view, or from a bird's-eye 3rd person viewpoint. Experience your cities like never before.

It's not just trains. Jump on board a car or boat and see your creations from whole new perspectives. Ever wondered what it would be like to be a citizen or a worker in your city? While now you can find out.
New Management Controls
Doubling the number of vehicles in the game adds a massive amount of scope and scale to the game, and that brings with it its own challenges.

It might be overwhelming to have 200 trains running simultaneously. Understanding what they are all doing and how to optimize their timetables and routes with so much going on would be a challenge for anyone.

A-Train 9 V4 Japan Rail Simulator adds new features that bring you control from the transport planner level.

It's now possible to sort and filter your vehicle by type and group them into color-coded teams. How you use these features is up to the player. You may want to group your trains by the routes they travel, or perhaps separate them into long distance and commuter trains. It might certainly be a good idea to color code passenger and freight trains separately, but that choice is yours and with the filter and sort options it's very easy to set up.

The control is there, and the choices are yours.

Experiment and develop your own system using the new tools provided, and then see at a glance how your network is operating.

A-Train 9 V4 Japan Rail Simulator is the latest and greatest version of the game. Having all the benefits of all previous versions and these great new features added here.

Whether you are new to the game, or a returning player, there has never been a better time to ride the A-Train.