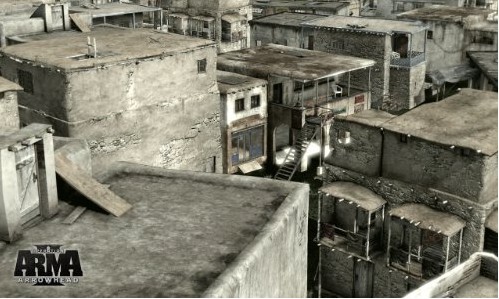 ARMA2: Operation Arrowhead (uncut) (PC)
Arma 2: Operation Arrowhead is a standalone product and does not require the original Arma 2.
Key features:
NEW PLAYABLE CONTENT: New story campaign for both SP and MP gameplay. Wide range of new tutorials, single scenarios and multiplayer modes.



MASSIVE GAME WORLD: Three brand new Central Asia-style large maps including expansive urban, desert and mountainous terrain featuring a fully destructible and interactive environment.



ULTIMATE WAR EXPERIENCE: Fully integrates with the original Arma 2 for unmatched warfare simulation.




UNIQUE GAMEPLAY ELEMENTS: Detachable backpacks with equipment, advanced weapon optics, material penetration modelling, remote real-time simulation of Unmanned Arial Vehicles (UAV), freedom of decision and repercussive actions.


EXTRA UNITS AND VEHICLES: Multiple factions for all sides including US Army, United Nations, Takistani Army and Guerrillas making a collection of 300+ new units, weapons and vehicles.



MISSION EDITOR: Design your own missions by the intuitive, easy-to-use mission editor and become part of one of the biggest and most creative PC gaming community ever.



GAME MODIFICATION: Create Your own custom game content with complete editing tools suite (freeware SDK kit) and modify the game in ways where the only limitation is Your own imagination.



EXTENSIVE MULTIPLAYER: Play the campaign missions in cooperative mode or join duty in the massive multiplayer battles with up to 50 players.




CHEAT PROTECTION: Optional anti-cheat BattlEye (http://www.battleye.com) available to help secure dedicated servers. In addition BE adds 'RCON' (remote control) for game's dedicated server software.



DEDICATED SERVER: To support smooth multi-player experience there is 'dedicated server software' available for Windows (included with game) and Linux (download-able from game's website).