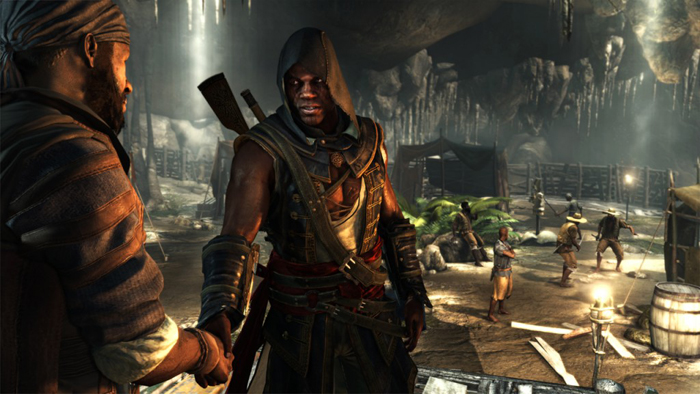 Assassin's Creed IV: Black Flag Jackdaw Edition (PC)
Assassin's Creed IV Black Flag Jackdaw Edition includes the ACIV: Black Flag full game and the following downloadable content:
Season Pass granting access to all future ACIV: Black Flag DLC
Death Vessel Pack - Show your enemies that you are ready to bring death upon them with the Death Vesselsails, figurehead and wheel.
Kraken Ship Pack- This pack includes a sail, wheel, and figurehead inspired by the legendary sea monster known for swallowing ships, men and whales.
Crusader & Florentine Pack - With these new cosmetic sets, sail with Altaïr or Ezio's colors with 4 customization items for your ship and 2 new weapons for Edward.
Illustrious Pirates Pack – This pack adds 3 new islands to explore with its hidden treasure chests, new outfits, weapons, ship items and more; ready to be discovered. Customize your multiplayer experience with new skins and items!
Multiplayer #1 – Blackbeard's Wrath - Blackbeard's Wrath Pack extends the multiplayer experience with three new fearsome playable characters including the Orchid, Blackbeard himself and the Jaguar!
Multiplayer #2 – Guild of Rogues - The Guild of Rogues Pack extends the multiplayer experience with three additional playable characters including the Powder Monkey, the Shaman and the Mermaid! This pack also comes with new customization options, and new moves!
Assassin's Creed IV Black FlagTM Freedom Cry: Born a slave, Adewale found freedom as a pirate aboard the Jackdaw where he became Edward Kenway's second-in-command. Now, 15 years later, Adewale has become a trained Assassin who finds himself shipwrecked in Saint-Domingue without weapons or crew. He starts to meet locals in an effort to assemble a crew and steal a ship. The more he helps, however, the more he is drawn into the Maroon slave community. Forced to face his past, Adewale sets out to free the slaves and bring death to their captors. Over 3 hours of new single-player gameplay!