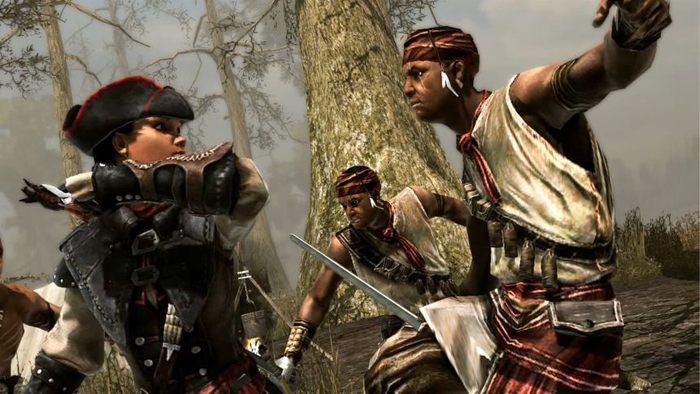 Assassin's Creed Liberation HD (PC)
About this game
Introducing Assassin's Creed Liberation, the striking chapter of the pre-American Revolution Assassin's Creed saga which arrives for the first time on HD consoles and PC. With improved gameplay, a deeper story, and HD graphics, Liberation is an immersive and full Assassin's Creed experience.
The year is 1765. As the events leading up to the American Revolution heat up in the north, Spanish forces plan to take control of Louisiana in the south – but they have yet to reckon with Aveline, a deadly Assassin who will use every weapon and ability in her arsenal on her quest for freedom. . Whether eliminating her enemies with her multiple assassinations technique or luring them into deadly traps using her tools, Aveline strikes mortal fear into the hearts of those who stand in her way.
As an Assassin, Aveline soon finds herself on an unforgettable journey that will take her from the crowded streets of New Orleans to voodoo-haunted swamps and ancient Mayan ruins. She will play a pivotal role in the turbulent New Orleans revolution and the beginning of a new nation. As she fights for freedom, not for herself, but for those whose life and hopes have been squashed.
As Aveline, an Assassin of mixed French and African heritage, you must use your skill, instinct and weaponry – including a machete, poison-dart blowpipe, a whip and duelling pistols – to hunt down and eliminate your enemies.
The United States is where you are based in Assassin's Creed Liberation, but this isn't the best time in the countries history. In Louisiana, you'll have to contend with those who think that peoples rights are based on their color, and not who they are. Keep Aveline safe from these fools, all the while making sure she completes her mission.
So take a new view on assassins in Assassin's Creed Liberation! And show the Templars, and the others in Louisiana, just how epic you are.