Battlefield 1 Day One Edition (PC)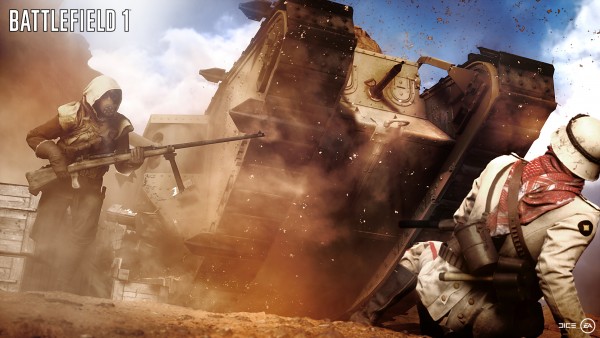 Contents of the Day One Edition:
Hellfighter-Pack (exclusiveTrensh-Shotgun, M1911, Bolo knife and Harlem Hellfighters Insignia)
About this game:
Battlefield 1 brings about the dawn of all-out war on the most epic scale.
Witness up to 64-player Multiplayer battles as you team up with your friends to take on the enemy as you lead your infantry through memorable maps and moments from World War 1. Ranging from the deserts of Arabia to the under-fire trenches, prepare to fight on land, sea and in the air and witness where modern warfare originated.
"Take part in every battle, control every massive vehicle, and execute every maneuver that turns an entire fight around."
Face the threat of complete destruction with an ever-changing landscape and an intuitive, dynamic weather system. Witness where the beginning of modern technology used in warfare throughout the years.
Battlefield 1's single player campaign takes players through the first person perspectives of six chapters made up of six different stories. Take control of different soldiers of different origins and nationalities, showcasing aspects of the first World War ranging from Harlem Hellfighters to a Bedouin warrior under Lawrence of Arabia's command.
"The whole world is at war – see what's beyond the trenches."
Experience Battlefield 1 in its trademark fashion, with a heavy emphasis on teamwork across large scale maps with a cinematic and action-packed single player mode.
Fight your way through epic battles going from tight urban combat in a besieged French city to big open spaces in the Italian Alps or frantic combats in the Arabic sand dunes. Experience large-scale battles as infantry or piloting vehicles on land, air and sea, from the tanks and bikes on the ground, to bi-planes and gigantic battleships.

Discover a new world at war through an adventure-filled campaign, or join in epic multiplayer battles with up to 64 players. Adapt your tactics and strategy to the earth-shattering, dynamic environments and destruction.