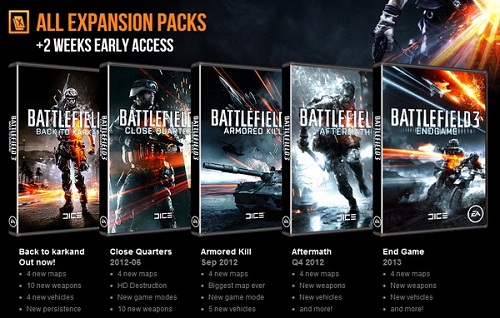 Battlefield 3 Premium Service (PC)
About Battlefield 3 Premium Service (PC)

Ramp up the intensity in Battlefield 3 and enjoy total freedom to fight the way you want. Explore nine massive multiplayer maps. Use loads of vehicles, weapons, and gadgets to help you turn up the heat from land, sea, and sky. Plus, every second of battle puts you closer to unlocking tons of extras and moving up in the Ranks. So get in the action. This is Battlefield 3, where there's no wrong way to play... except the one that gets you killed.
Play to your strengths. The four player classes — Assault, Engineer, Support and Recon — each have their specialties, and working together is key to victory. Play Assault and revive your fallen teammates on the front line. Or take the long view as Recon and neutralize the enemy threat before it appears.
Go anywhere, do anything. Commandeer any vehicle you come across, from tanks and buggies to helicopters and jets. Slam your F/A-18E Super Hornet directly into an enemy combatant! Why not? Do whatever you want, because you can.
Total mayhem. Enjoy nine multiplayer maps. Massive destructible environments? Yup. Wide open spaces for crazy vehicular combat? Roger that. The only thing between triumph and total destruction is you.
Then, take your Battlefield 3 experience to the next level via the Premium Service. With it, you'll be able to get all the expansions of the game. These expansions give you 20 all new maps, along with 20 all new weapons, 10 new vehicles, and new multiplayer modes, 4 different ones from the main game.
If you're looking for more personal rewards, the Battlefield 3 Premium Service will give you exclusive items to make your soldier even more unique. Such as a custom knife, a set of dog tags, brand new camos for you and your weapons, and more.
Don't just play Battlefield 3, get the Battlefield 3 Premium Service and get the best version of the game.
Battlefield 3 Premium Service (PC) Features
Play all expansion packs early
Get all five massive themed expansion packs for Battlefield 3 and play them two weeks early.
Stand out with exclusive in-game items
Get recognition and stand out with unique in-game items including the one-of-a-kind ACB-90 knife and a set of Battlefield 3 Premium dog tags. Further customize your experience with new exclusive soldier camos and weapon camos and unique Assignments.
Access powerful features
With Battlefield 3 Premium comes the unique chance to reset your Score/Minute, Kills/Deaths, and Wins/Losses stats if you want a fresh start with your multiplayer soldier. To further recognize your status, we give you queue priority into servers, more decals for your Platoon emblems, and the ability to favorite five of your Battle Reports to store them permanently.
Join unique events
Rank up faster with exclusive Double XP weekends and take part in unique events.
Get strategy guides & videos
Watch videos with playing tips straight from the developers at DICE, access a set of deep strategy guides, and get exclusive sneak peeks from upcoming expansion packs.

Platform: PC (Windows XP / Vista)