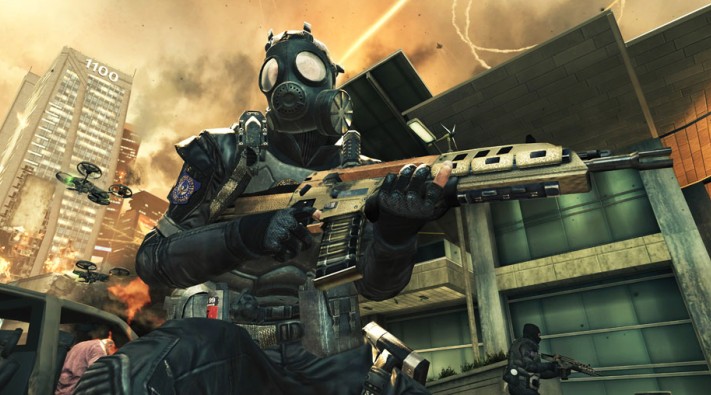 Call of Duty: Black Ops 2 (PC)
About this game
Pushing the boundaries of what fans have come to expect from the record-setting entertainment franchise, Call of Duty®: Black Ops II propels players into a near future, 21st Century Cold War, where technology and weapons have converged to create a new generation of warfare.
A time-spanning, generation-spanning narrative, Call of Duty: Black Ops 2 introduces players to an insidious villain named Raul Menendez who hijacks the US military infrastructure to further his own agenda. Harness the power of near-future technology and advanced robotics to pull the world back from the brink of annihilation.
Rooted in near-future fiction, Call of Duty: Black Ops 2 multiplayer will introduce players to some of the most cutting-edge weaponry and equipment that 2025 will have to offer.
The Biggest Zombies Experience to Date: Call of Duty: Black Ops 2 Zombies features three different ways to survive the zombie apocalypse. Unravel the mysteries of a dying Earth in Tranzit, fight endless waves of zombies in Survival mode, or compete in the new 4z4 last-human-standing mode, Grief. Also, enjoy bite-sized chunks of gameplay with Zombies' new Custom Game Mode.
Just when you thought Call of Duty couldn't get any bigger, Call of Duty Black Ops 2 proves that theory wrong in spades. The near future beckons, but with twists straight out of the minds of video game developers. Through a blistering single player campaign, to an ever changing and evolving multiplayer arena, to the battles with zombies, Call of Duty Black Ops 2 does not hold back when it comes to size, scale, scope, or action.
Use weapons you know, use weapons you don't, use skills and abilities both fresh and familiar, all in an attempt to both save the world, and prove that you are the best solider around. Load up and roll out soldier, it's time to go to work.
Call of Duty: Black Ops 2 (PC) Key Features
Create a new class: Creation of classes has been redesigned, providing players with a new "Nimm-10" allocation system that allows an unprecedented number of combinations to create a class. Players no longer have to choose equipment from each category; Instead, they exchange objects from one category to additional objects in another - each combination of 10 objects makes almost anything possible.
Take 10-System: Ten points and almost endless combinations: Each object is worth a point and you can distribute your 10 points as you like so that a greater degree of customization is possible for individual game styles.
Wildcards: For each point, Wildcards allow players to "expand the system" and create classes in a unique way - players can choose multiple extras from one category, arm their primary weapon with three attachments, wear two primary grenades, and more.
Brand new point series: Point series reward players, if they help their team win the game: capture flags, defend a team member with a shield, reach kills and assists are all examples of actions that help your team to victory and gain points. Each action has a different value and can influence the location.
League game: competition is fun at every level, so Treyarch has integrated leagues that offer skill-based player placement and seasonal rankings. You play a few games to classify your skills, and from then on you are assigned to other players of the same skill level of a division. If one remains victorious, one ascends - a steady ascent leads one up the ladder and into higher divisions. A player-based player-based approach ensures that you are not challenged. The league game is for everyone.
CODcaster: The CODcaster provides a new way of viewing by taking on the role of the commentator on each game and reporting on the action on the screen. There are several special features that have been incorporated into the CODcast menu of the game for all new casting experiences.
Live Stream: In addition, Activision is proud to announce the ongoing development of an incredible new live game stream feature. This will help to create competitive games not for the players, but also for the spectators. Once it's done, Treyarch will offer a streaming tool that allows players to show their own gaming experience (and themselves) through a stream from the game. Requirements, rules, availability, and release dates of this new feature will be announced.
Challenges - return with a surprising twist.
Standard & Party game modes - an advancement of the betting game, a fun new way to play with friends.
Own games - more adjustments than ever before, for both competition and friendships.
Kampferaining - back and better than ever before.
Cinema extensions - return with several new features.
Emblem editor + player identity - offer more creativity and artistic freedom than ever before.
Prestige - integrated into the level progress system.