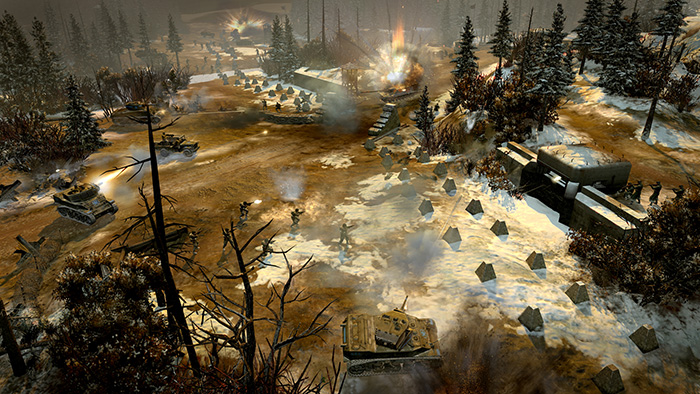 Company of Heroes 2: Ardennes Assault (PC)
About This Game
Company of Heroes 2: Ardennes Assault is a single-player only standalone experience that will allow you to familiarize yourself with the USF faction through 18 scenarios. To also have access to the USF army in multiplayer, you will either need to buy it separately or through The Western Front Armies.
Continuing the story in World War II, this exciting campaign places you in the heart of the battle, once described by Churchill as "...undoubtedly the greatest American battle of the War". This pivotal conflict is known to many as 'The Battle of the Bulge.' Take charge of US Allied forces as they face tactical challenges and punishing terrain during a surprise offensive manoeuvre led by the relentless resurgent Oberkommando West. Watch the dramatic Battle of the Bulge unfold through the eyes of three different Officers; experience first-hand the unique struggles they encounter during the war, and how the weight of your actions will shape their future. The harsh reality of war is that no one is truly safe, and your Companies are not excluded from this ultimate truth. Bear witness to their heroism in the face of extreme odds, and fight to win control of the strategically critical Ardennes region.
NON-LINEAR CAMPAIGN
- Take control of a strategic meta-map covering the key locations of the Battle of the Bulge.
- Choose the sequence to play the missions to ultimately defeat the mighty German Force and turn the tide of war.
There are 18 new and unique battles that you can partake in Company of Heroes 2 - Ardennes Assault. Each one will test you to your limits as you'll have to carefully place and move your units so that you can obtain victory. But remember, this is war, and things don't just reset in a war. Whatever choices you make, however your units are affected, that'll transfer over to the next battle. So be mindful of what you do.
With three all new companies of units to command, you'll get unique experiences with each one, and you'll find out just how deep the war goes. So test your skills, and lead your companies to victory in Company of Heroes 2 - Ardennes Assault.