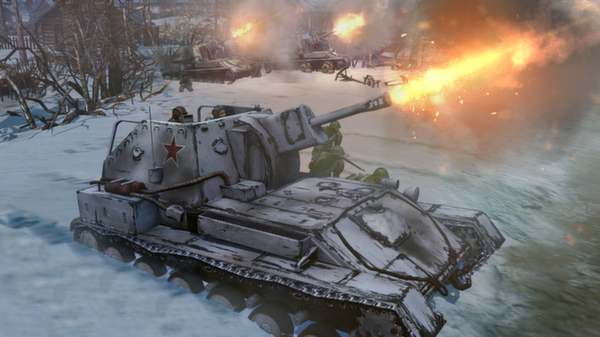 Company of Heroes 2 - Collector's Edition (PC) - DHL-Lieferung
Collectors Edition including:
The full game "Company of Heroes 2"
Access to the first 3 content packs (additional missions for the single player campaign after release)
Command pass (Access to additional new multiplayer maps and access to special events only for command pass owners)
Exclusive vehicle skin (Heavy Weight Vehicle Pattern Bundle - German Whitewash and Russian Winter Cobblestone)
Veteran Badge (appears in the player's ingame profile)
The award-winning "Company of Heroes" with both addons "Opposing Fronts" and "Tales of Valor"
Product Description
The Motherland is Calling! In the world's darkest hour you are a commander of the Soviet Red Army, entrenched in brutal frontline warfare to free Mother Russia from the Enemy invaders.
It is 1941 and the beginning of what will become the bloodiest conflict of World War II resulting in more than 14 million military casualties. Witness the struggles of the Red Army from near defeat through their incredible triumph over Germany in the most challenging and costly theatre of the war, the Eastern Front. Your military tactics hold the power to tip the very balance of this conflict. Engage in tactical combat that will define you as a military leader and wield the might of the Soviet Empire as you smash your way to Berlin.
Features
Blood and Snow – Take command of the iconic Red Army on the Eastern Front and repel the Enemy invaders in this Battle of the Ideologies.
Award Winning Franchise – Sequel to the highest rated strategy game of all time returns with an innovative warfare experience that will redefine the Strategy genre once more.
Essence 3.0 Engine – Cutting-edge technology that increases the graphical quality and accuracy of deadly combat with the unprecedented TrueSight™ system and ultrarealistic ColdTech™ dynamic weather that changes strategic warfare forever.
Tactical Warfare – Develop and utilize your new Commander Abilities and experience the up-close moment-to-moment brutality of frontline warfare through new Dynamic Battle Tactics.
Intense Online Combat – Featuring the great competitive and co-operative multiplayer that fans have grown to expect from this high-quality and critically acclaimed franchise.