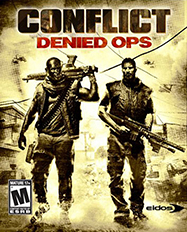 Conflict: Denied Ops (PC)
Two-Man Tactics – Switch between team members at any time for maximum control.

Explode Your Enemies – Levels are built around massive fire fights with a continuous stream of enemies, and tons of exploding objects littered around the level to help your cause.

Destroy Everything – Obliterate your enemies with explosions, demolish buildings, blow through walls and destroy almost anything in the environment.

Accessible Action – Give commands to your team mate simply by pressing or holding a single button. Concentrate on the action, not complicated menus or control schemes.

Puncture-Tech™ – Utilize strategic destruction made possible with new Puncture-Tech™ technology developed by Pivotal Studios. Blast open new pathways, shoot unaware enemies through walls, or create holes in your cover to generate firing paths.