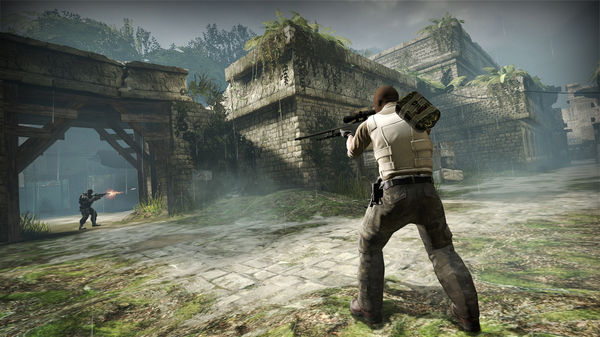 Counter-Strike: Global Offensive CS:GO (Steam Cloud Activation)
Counter-Strike: Global Offensive Description
Witness one of the most popular eSports games of all time, with the objective-based multiplayer first-person shooter Counter-Strike: Global Offensive.
Take control of either Terrorists or Counter Terrorists, as you attempt to complete objectives dependent on the team you choose, whilst also trying to eliminate the enemy team. Global Offensive features five online game modes, including Classic Casual and Competitive, Bomb Scenario, Hostage Scenario, Arms Race, Demolition and Deathmatch.
Players begin each round by purchasing weapons with money awarded according to their performance. Objectives inlcude disarming or planting bombs which can earn you money, whilst negative actions such as friendly fire or shooting hostages can result in monetary penalties. Money is awarded each round, with the winning team receiving a substantially higher amount.
Global Offensive brings a host of new weapons and equipment never before seen in the Counter-Strike series, including the Molotov for Terrorists or the Incendiary Grenade for the Counter-Terrorists.
Prepare for all-out war with Counter-Strike: Global Offensive, and be a part of one of the most popular online shooters to date.
About Counter-Strike: Global Offensive
Counter-Strike: Global Offensive (CS:GO) is an extremely popular multiplayer first-person shooter which is the fourth addition to the Counter-Strike series. CS:GO arrived back in late 2012 and has managed to remain one of the most popular objective-based multiplayer games ever since.
Most multiplayer modes of CS:GO begin with purchasing weapons and equipment with currency earned depending on your performance. You can earn in-game money by completing objectives, defeating others. Keep in mind that you can get penalized for friendly fire and it can affect the money you earn.
Many noticeable changes have been made to the game, compared to the previous CS titles, and Counter-Strike: Global Offensive still has an enormous international player base. Developed by Hidden Path Entertainment and published by Valve Corp., CS:GO is definitely a must for any FPS fan and it seems highly likely that the game will remain one of the most active titles for many years to come.