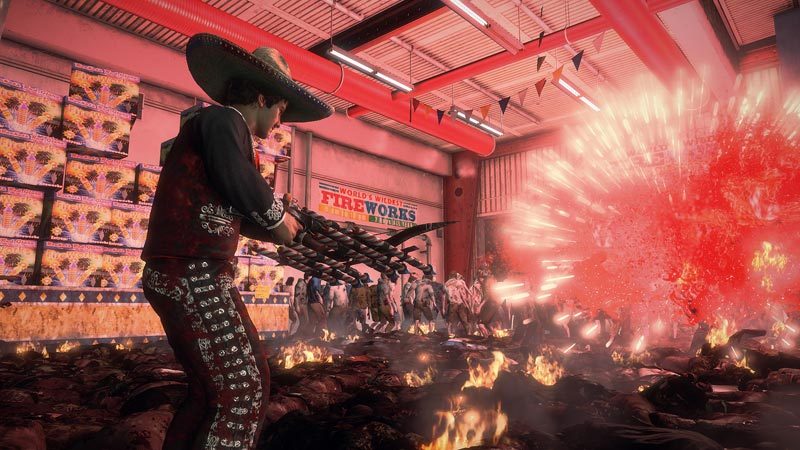 Dead Rising 3 - Apocalypse Edition
NOTICE: Activation key must be used on a valid Steam account, requires internet connection.
APOCALYPSE EDITION
---
The Dead Rising 3 Apocalypse Edition includes the ultimate open-world zombie game along with four downloadable content packs. Welcome to the Apocalypse, where your zombie slaying thrills await.
Bonus Downloadable Content: All four of the ?Untold Stories of Los Perdidosン downloadable add-on packs are now included. Each add-on chapter focuses on a different protagonist and gives players access to crazy new weapons and vehicles that carry over to the main game.
ABOUT THE GAME
---
The critically acclaimed Xbox One exclusive launch title
Dead Rising 3
will be available for PC digital download on Steam globally and a retail version for Windows PC in Europe on September 5 2014. PC gamers will be able to experience the hordes of horror at high PC resolutions with upgraded textures on characters, backgrounds and in-game objects.
Dead Rising 3
for PC will include Steam platform support with Steam Achievements, Steam Cloud, Steam Trading Cards, global leaderboards and full game controller support. Also compatible with the keyboard and mouse, players will be able to toggle back and forth between the two in real time.
The third title in the Dead Rising series with sales of over 1 million units to date,
Dead Rising 3
takes place 10 years after the events of Dead Rising 2. Set in the city of Los Perdidos amidst a nationwide zombie outbreak, the story follows Nick Ramos, a young mechanic. He must find a way to escape from thousands of blood thirsty zombies before an impending military strike wipes out the city and its population. Relying on the help of other survivors he meets along the way and the vast array of unique and powerful combo weapons available, Nick will need to get creative to get out of the infected city before it?s too late.
KEY FEATURES
---
Welcome to Los Perdidos ᄀᄚ Set 10 years after the events in Fortune City players are taken to the massive open and infected world of Los Perdidos while being immersed in action and stunning visuals.


All the survival horror action comes to PC ᄀᄚ Fully optimized to run at a high resolution, the PC release includes full Steam and game controller support.


More zombies than ever before ᄀᄚ The zombies are smarter and deadlier than ever with intelligent AI and shared awareness forcing players to employ all their cunning skills and creativity to stay alive.


Hundreds of unique combo weapons and vehicles ᄀᄚ Combine and customize hundreds of pieces found throughout the sandbox world including the gruesome Boom Cannon weapon or the Party Slapper vehicle.


Face the horror alone or with a friend ᄀᄚ Join forces with a friend for endless zombie killing mayhem and earn experience points that carry back to your single player experience.
SYSTEM REQUIREMENTS
---
Minimum
OS: Windows 7 64-bit edition, Windows 8 64-bit edition
Processor: Intel Core i3-3220 @ 3.30GHz (or Intel Core 2 Quad Q9550 @ 2.83GHz) / AMD Phenom II X4 945 @ 3.00 GHz or higher
Memory: 6 GB RAM
Hard Drive: 30 GB free
Video Card: NVIDIA? GeForce? GTX 570 / AMD Radeon 7870 or higher
DirectX: Version 11
Controller: Keyboard (international and standard), Mouse (up to 4 buttons), Xbox 360 PC compatible controller or compatible gamepad
Connection: Broadband internet connection and Steam account required
Recommended
OS: Windows 7 64-bit edition, Windows 8 64-bit edition
Processor: Intel Core i5-4570 CPU @ 3.20GHz or AMD equivalent
Memory: 8 GB RAM
Hard Drive: 30 GB free
Video Card: NVIDIA? GeForce GTX 670 2GB / AMD Radeon 7970 2GB
DirectX: Version 11.1 or greater
---
?CAPCOM CO., LTD. 2014. ALL RIGHTS RESERVED.