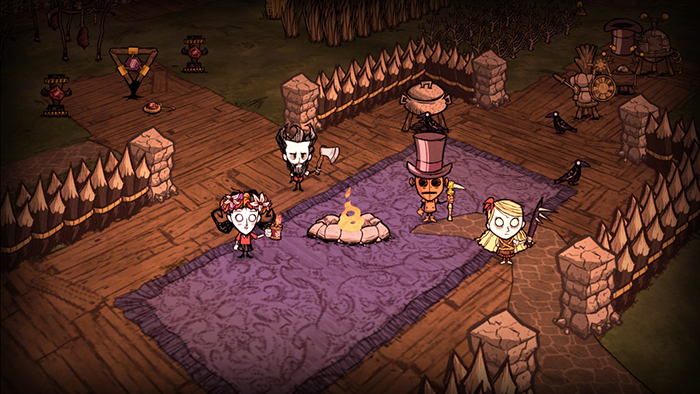 Don't Starve Together Frontier Pack (Early Access Game)
Bonus
Includes: Don't Starve and Don't Starve Together, plus a gift copy of Don't Starve Together - Send the extra copy to a friend!
About This Game
Don't Starve Together is the standalone multiplayer expansion of the uncompromising wilderness survival game, Don't Starve. Now Including, A New Reign: Part 1, the first episode of a series of updates. Built for multiplayer A New Reign explores the world of Don't Starve now that Charlie has taken over.
Don't Starve Together also includes Reign of Giants; adding new characters, seasons, creatures, biomes, and Giant new challenges.
Enter a strange and unexplored world full of strange creatures, dangers, and surprises. Gather resources to craft items and structures that match your survival style. Play your way as you unravel the mysteries of this strange land.
Cooperate with your friends in a private game, or take your chances with strangers online. Work with other players to survive the harsh environment, or strike out on your own.
Do whatever it takes, but most importantly, Don't Starve.
Includes content as A New Reign Part One. The shadow queen Charlie has begun to make her mark on the Don't Starve world, and her influence is manifesting in new and mysterious ways. What is her plan for Wilson and the survivors? Will she aid them in their fight for survival, or does she have something more dastardly in store?
And Part Two: Charlie the shadow queen has been plotting dark new challenges for Wilson and his fellow survivors from her umbral throneroom, and she's ready to unleash her latest creations on the world of Don't Starve!
All of these, plus the Reign of Monsters story, which will give you new mysteries to solve, new challenges to face, and new creations and innovations to seek out and make! Or, if you want something even newer, there's two new characters that you can play as, and new monsters to face, including the titular Giants!
Included in all of these new stories are new items, events, new tweaks to the map, and much more. All to make Don't Starve Together the best possible experience it can be.