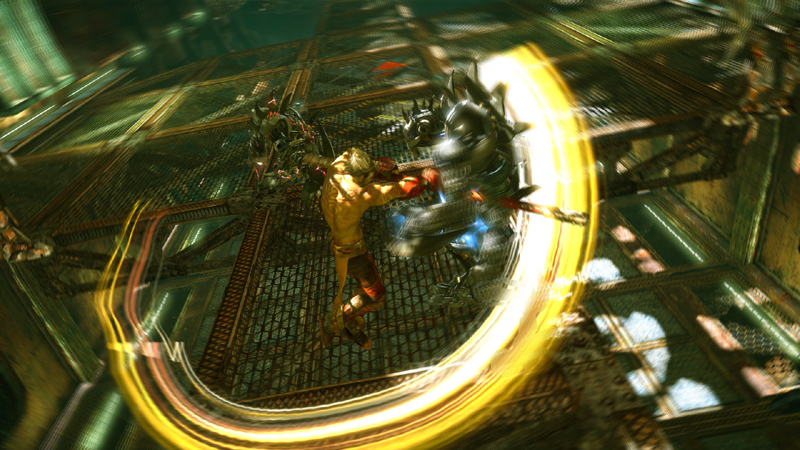 ENSLAVED: Odyssey to the West Premium Edition
NOTICE: Activation key must be used on a valid Steam account. Requires internet connection.
Main Game: English, French, German, Italian, Spanish audio & subs
Pigsy's Perfect 10 Content: English audio, English, French, German, Italian, Spanish subs
ABOUT THE GAME
---
Follow a gripping, surprise-filled journey as two dissimilar characters form an uneasy partnership in order to survive through a perilous, post-apocalyptic America.
150 years in the future, war and destruction have left the world in ruins with few humans remaining and nature having reclaimed the world. Mysterious slave ships harvest the dwindling population and take them out west, never to return.
Trip, a technologically savvy young woman has been imprisoned by a slave ship but manages to escape using her mental prowess. Monkey, a strong, brutish loner and fellow prisoner also gets free by virtue of his raw power and brawn. Trip quickly realizes that Monkey is her ticket to freedom and is her only hope to survive her perilous journey back home. She hacks a slave headband and fits it on Monkey, linking them together. If she dies, he dies and her journey has now become his. ENSLAVED centers on the complex relationship between the two main characters. Players take on the role of Monkey, utilizing a mix of combat, strategy and environmental traversal to ensure he and Trip survive the threats and obstacles that stand in the way of their freedom.
The Premium Edition includes the original critically-acclaimed game, and additional DLC content ?Pigsy?s Perfect 10ン as well as character enhancement skins Ninja Monkey, Classic Monkey and Sexy Trip.
KEY FEATURES
---
Engaging Storyline - A post-apocalyptic retelling of the classic 400-year old novel Journey to the West co-written by famed novelist and screenwriter, Alex Garland.


A Cinematic Masterpiece - Dramatic cutscenes co-directed by Andy Serkis, who also plays the lead role of Monkey, portraying critical events that drive the story of Monkey and Trip.


Stunning Environments - Explore a beautiful, eerie world of war-ravaged cityscapes that have been reclaimed by nature and are fraught with danger at every turn.


Dynamic Combat System - Attack and defend with agile prowess using a combination of melee attacks, blocks, and intense takedowns. Use Monkey to overtake an enemy, steal its weapon, then rip the enemy apart systematically.
SYSTEM REQUIREMENTS
---
Minimum:
Operating system: Windows XP, Vista, Seven, 8
Processor: 2Ghz Dual Core or AMD equivalent
Memory: 2GB
Hard disk space: 8GB
Video: 512MB video cards Pixel Shader 4.0 (Geforce 8xxx-ATI HD2xxx)
Sound: DirectX sound device
DirectX?: 9.0c
Recommended:
Operating system: Windows XP SP2, Vista or Higher
Processor: Intel Core 2 Duo @ 2.20GHz / AMD Athlon 64 X2 4600+
Memory: 2GB
Hard disk space: 12GB
Video: Nvidia Geforce 9600 / ATI Radeon HD 4850
DirectX?: 9
---
ENSLAVED: Odyssey to the West Premium Edition & ? 2010, 2013 NAMCO BANDAI Games America Inc. All rights reserved. Created by Ninja Theory Ltd.