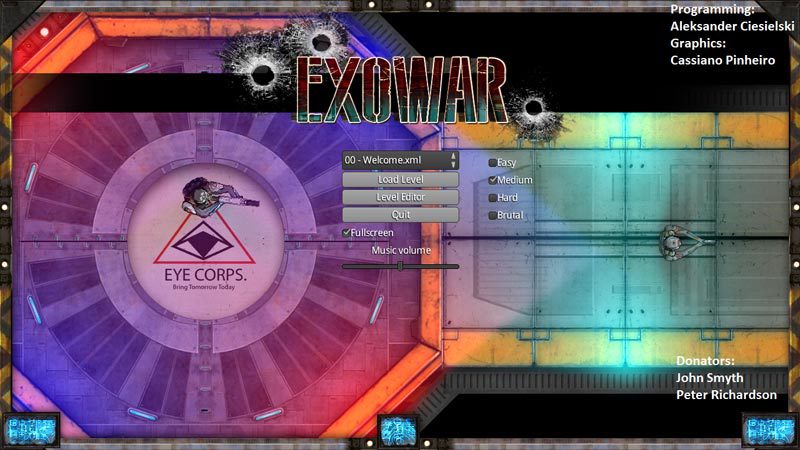 Exowar
Availability

Out of Stock
---
NOTICE: Activation key must be used on a valid Steam account, requires internet connection.
ABOUT THE GAME
---
Exowar is a 2D top-down shooter game placed in close future. You play as a cybernetically enhanced soldier, who ventures inside scientific facility searching for truth. Ultimately you will have to face many enemies, while being in the middle of human vs alien warzone.
If you like stealth gameplay, you can avoid direct enemy contact and try to outsmart them, if you like fast action, nothing stops you from jumping into the room full of enemies, evading their bullets and eventually eliminating them with your favourite weapon.
KEY FEATURES
---
The game contains 7 levels + bonus test level.



There are also 4 difficulty levels that will allow to either choose level according to your skill or increase difficulty when you beat the game on easier level.



Player is offered 5 weapons to choose from, pistol, shotgun, automatic rifle, grenade launcher and rocket launcher.



On your way through the game you will face 3 kinds of aliens and 1 kind of guards. While doing so you will be accompanied by 5 top quality music tracks.
SYSTEM REQUIREMENTS
---
Windows
Minimum Requirements:
OS: Windows XP or later
Memory: 1 GB RAM
Processor: 2.4 GHz Intel Core 2 Duo or better
Hard Drive: 54 MB available space
Graphics: OpenGL 2.0 compatible
Mac
Minimum Requirements:
OS: Mac OS 10.7 or later
Memory: 1 GB RAM
Processor: 2.4 GHz Intel Core 2 Duo or better
Hard Drive: 54 MB available space
Graphics: OpenGL 2.0 compatible
Linux
Minimum Requirements:
OS: Ubuntu 12.04 or later
Memory: 1 GB RAM
Processor: 2.4 GHz Intel Core 2 Duo or better
Hard Drive: 54 MB available space
Graphics: OpenGL 2.0 compatible