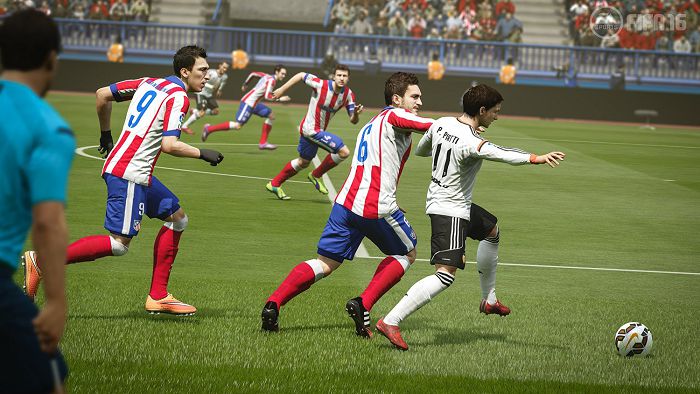 FIFA 16 (PC)
Availability

Out of Stock
About The Game
Create more moments of magic than ever before with FIFA 16. Make every match memorable with increased control in Midfield, improved defensive moves, more stars, and a new way to play. Build your dream team in FIFA Ultimate Team, or compete as one of 12 Women's National Teams for the first time ever in the FIFA franchise, including Germany, USA, France, Sweden, England, Brazil, and more. FIFA 16 innovates across the entire pitch, delivering a lifelike and authentic football experience.
Innovative new features. Play your way, in your favorite modes, and experience all-new gameplay elements that bring each match to life. FIFA 16 brings Confidence in Defending, Control in Midfield, and gives you the tools you need to play and experience an incredible match of football.
Play as Women's National Teams. Choose from one of 12 Women's National Teams and compete in Match Day, an Offline Tournament, Online Seasons Cup, and Online Friendly Matches. The available teams are: Germany, USA, France, Sweden, England, Brazil, Canada, Australia, Spain, China, Italy, Mexico.
Build your dream team. Choose from among the best football stars of all time and build a team to take home the glory in FIFA Ultimate Team. Join an online community of more than 15 million fans to buy, trade, and sell players. Sign up to throw down against your friends' teams or compete in solo single-player tournaments – player stats, scores and team standings get updated every week.
Soccer is the worlds game, and now, FIFA 16 lets you play the game with the world in new and exciting ways. Including sharing your progress with players from around the world! Show them how fast you're climbing up the ranks, then show them who's boss by challenging them to matches, and dominating them. With both the mens and womens side of soccer portrayed in FIFA 16, you basically have two totally different divisions to master. So get your team ready, the ball is in play.