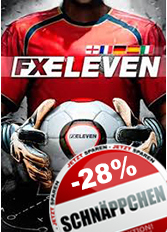 FX Eleven - The Football Manager for Every Fan (PC)
Availability

Out of Stock
Make yourself a career as club manager and work your way up to the top. Win achievements with different teams. Earn yourself a reputation: "Lucky charm", "Giant Killer" or "Professor", an expert in finding future stars in your youth divisions, among many others.

United Kingdom, Germany, France, Spain, Italy... The first and second divisions of all of these competitions are played simultaneously, along with the third division in the Spanish and Italian championships. Leagues, cups, international tournaments, preseason matches... 450 teams, each and every one of them in constant evolution.

More than 11,700 players created one by one that will become truly unique under your leadership. Players grow and evolve depending on your actions. Throughout their career they can acquire "Achievements" that will in turn affect the entire game universe.

Upgrade and expand your stadium, customizing the facilities to adapt them to the football club you wish to create.

Don't just sit on the bench. Make decisions and apply them from the sideline to change game dynamics: choose when your team should put pressure on rival players, when to use the flanks, when to keep the ball... Or design your own moves on the field in real time!

Instantly customize players, kits and shields with MyTeam, the editor that gives you total control; create your ideal squad, a club with football legends, or the team of friends you play with on the weekends.

A game in constant evolution with new features suggested by the community: manager track record; fun and agile transfer system; squad stats; player evaluation after each match; top scorers, goalkeepers and footballers with most assists; lineup of the week; sponsors; trophy room; man-to-man markings...