Guild Wars 2 Heart of Thorns Standard + 2000 Gems (EU)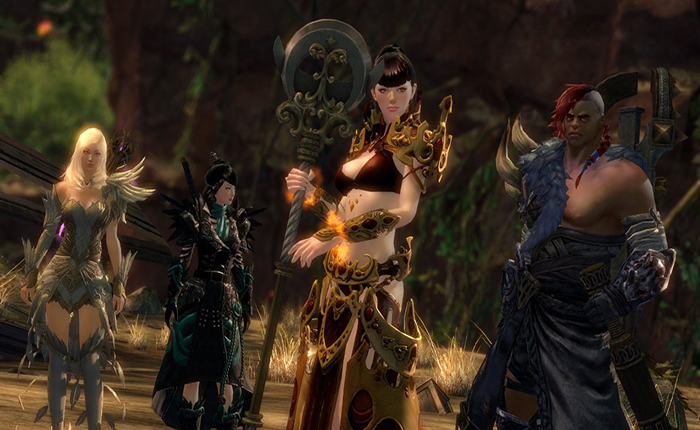 This Version Includes 2 Items:
Guild Wars 2 Heart of Thorns

Guild Wars 2 - 2000 Gems Key
About The Game
Guild Wars 2 Heart of Thorns
Heart of Thorns is the first expansion for Guild Wars 2. Founded on the idea that the journey is the goal, the Heart of Thorns expansion continues the Guild Wars 2 tradition of challenging the conventions of MMOs to fulfill the promise of what online worlds should be. Journey deeper into the Heart of Thorns.

The Mastery System: We're reimagining progression with our new Mastery system. Explore new training opportunities for your character beyond level 80 and master abilities like hang gliding in the jungle, tearing the bark off of heavily armored Mordrem, or building new collections that earn precursors to a legendary weapon.

The Heart of Maguuma: New adventures await you in the heart of the Maguuma Jungle. Confront the growing hordes of Mordremoth's minions, discover allies from ancient civilizations, and battle new enemies.
Tackle challenging group content
Explore new open world jungle maps
Experience new events and storylines
Test your mettle in new boss battles

Specializations: Evolve your gameplay. With profession specializations, you'll unlock access to a weapon previously unavailable to your profession as well as new traits, skills, and unique mechanics - all of which will transform your profession into something new.

New Profession Revenant: Channel legendary powers to slaughter foes and unleash chaos on the battlefield with our brand new profession: the revenant. Enter the field of battle heavily armored and equipped with the otherworldly powers of the Mists.

Guild Halls: Your guild has roamed the world together. Now, it's time to claim a piece of it. Work with fellow guild members to claim and grow your own guild hall in the heart of Maguuma.

PvP - New Stronghold Game Mode: Gather supply to hire soldiers. Battle for control of heroes. Man the trebuchet to defend your stronghold, and storm the enemy gates to defeat the guild lord! Use our new guild team feature to team up and battle to the top of the leaderboards. Stronghold offers an entirely new way to play competitive PvP in Guild Wars 2!


Guild Wars 2 - 2000 Gems Key
With this key you get 2000 GW2 Gems Ingame. They can be added directly in the game in the Black Lion Trading Company in the Gem shop. The gems are the second currency besides Gold. Gems can be traded directly for Gold and seen as Gold itself.
With them you can also buy many different kind of items. This includes many specials like funny gimmicks as the Cow death stroke. Diverse fashion is available, means you can change your character even more individually.
A great advantage in the game are the consumables. E.g. the Black Lion Key, which can open certain boxes that cannot be opened any other way.
The same is true for Services and Boosts. With the Guild Wars 2 Gems you can order services, which add nice improvements or save yourself some time. For example the revival orb that can be used to resurrect yourself on the spot without having to walk all the way back to the action.
Boosters on the other side help you leveling. XP boosts and magic find boosts for the item collectors. The might be only temporarily but are surely worth it.
Features (Guild Wars 2)
Guild Wars 2 provides a massive, online persistent world.
Guild Wars 2 have the kind of extensive character advancement appropriate to a persistent-world RPG.
Players have the freedom to play together even if their friends are at a much higher (or lower) level.
Players are able to engage in organized, balanced PvP (similar to GvG in the original Guild Wars) without first leveling up characters, finding equipment, and unlocking skills. While inside the organized PvP area, all characters will be the same power level and will have access to the same equipment.
Guild Wars 2 have eight professions with very distinct play-styles and skills, such as Mesmers, engineers, thief, guardian, necromancer, ranger, warrior, elementalist.
In addition to humans, players can create, customize, and play a variety of non-human races. For example, play as a warmongering Charr, towering Norn, small-sized Asura or plant-like Sylvari.