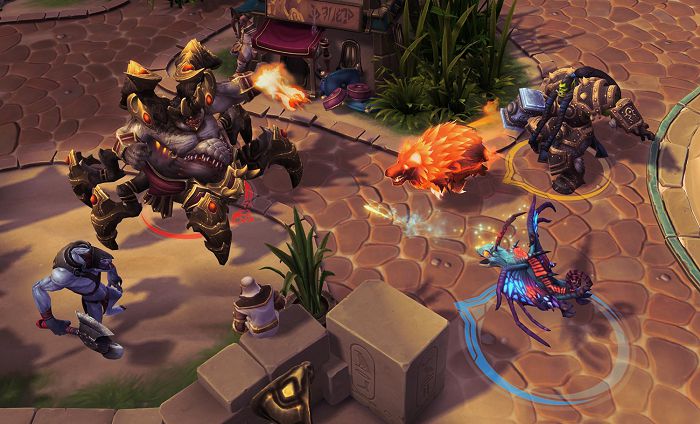 Heroes of the Storm Jaina (PC)
Availability

Out of Stock
About This Game
Thrall, Kerrigan, Diablo, Arthas, Zeratul, Tyrael—they're all here and ready to test their might in the forge of eternal combat. Who will stand with you in battle? Select your favorites from more than 20 years of Blizzard games.
Contend with unique challenges in every battle. Unlock the legendary secrets of each battleground to maximize chances of a glorious victory. Ghostly pirate ships, the fickle Raven Lord, and massive grave golems can be just as deadly as the opposing team. Adjust your strategy accordingly to the battleground, or face crushing defeat.
Good players win. The great ones make it look good, too. Distinguish yourself in battle with dozens of unique heroes, skins, and mounts. Then customize your hero's talents and choose from among multiple heroic abilities, enabling you to dish out ruin in the form of orbital bombardments, strafing frost wyrms, or all-consuming hellfire. Perfect your skills and unlock epic Master Skins to show off your ultimate battlefield dominance.
Keep up to date with Heroes of the Storm on your favorite social networks. Participate in online discussions with the game designers, get the inside scoop on community events, watch the latest cinematic trailers, get sneak peeks at upcoming content, and much, much more.
Before you do anything else, download the game and play the tutorial. It's fun, it's free, and it'll teach you the foundations of Heroes of the Storm better than any webpage ever could.
Heroes of the Storm is a MOBA game that is tailor-made for anyone who has ever played a game made by Blizzard. World of Warcraft, StarCraft, The Lost Dwaves, Overwatch, all are represented here, and all have their own special characters, abilities, and even maps to play on. What happens when these legendary franchises get together into one game? You're about to find out, and let us tell you, it's a pretty epic answer.
So whether you're a longtime MOBA or Blizzard game player, or you're just looking for something epic to play, Heroes of the Storm has you covered.
One of the characters you can play as in the game is Jaina Proudmoore from the Warcraft universe! She's a master Archmage, and was actually trained by Antonidas! It was she who led the survivors of the Scourge of Lordaeron, and now she'll protect them still, and defeat any who get in her way.