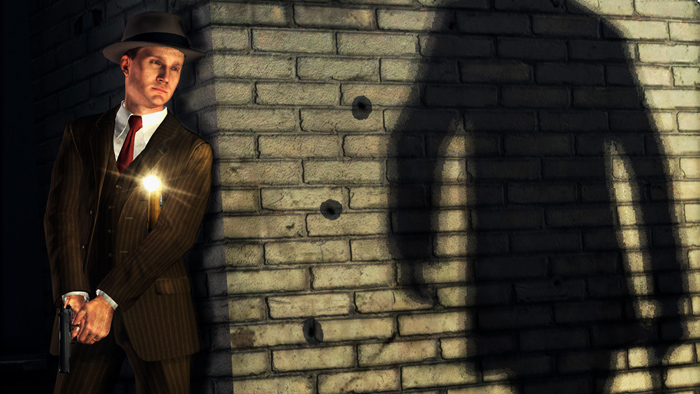 L.A. Noire
About the Game
Amid the post-war boom of Hollywood's Golden Age, Cole Phelps is an LAPD detective thrown headfirst into a city drowning in its own success. Corruption is rampant, the drug trade is exploding, and murder rates are at an all-time high. In his fight to climb the ranks and do what's right, Phelps must unravel the truth behind a string of arson attacks, racketeering conspiracies and brutal murders, battling the L.A. underworld and even members of his own department to uncover a secret that could shake the city to its rotten core.

Using groundbreaking new animation technology that captures every nuance of an actor's facial performance in astonishing detail, L.A. Noire is a violent crime thriller that blends breathtaking action with true detective work to deliver an unprecedented interactive experience. Search for clues, chase down suspects and interrogate witnesses as you struggle to find the truth in a city where everyone has something to hide.
Online Disclaimer
Software license terms available in game manual and at http://www.rockstargames.com/eula. Non-transferable access to special features such as exclusive, unlockable, downloadable or online content, services, or functions may require single-use serial code, additional fee and/or online account registration (13+). Access to special features may require internet connection, may not be available to all users, and may, upon 30 days notice, be terminated, modified, or offered under different terms. Unauthorized copying, reverse engineering, transmission, public performance, rental, pay for play, or circumvention of copy protection is strictly prohibited.

This is a fictional story set in 1940s Los Angeles depicting invented and fictionalized historical characters, groups, locations, scenes and events in a manner that is not historically accurate and should not be interpreted to be factual. All brand names are trademarks of their respective owners, who are not affiliated with this game. The makers and publishers of this video game do not in any way endorse, condone or encourage engaging in any conduct depicted in this video game.
System Requirements
OS: Windows 7 / Windows Vista Service Pack 1 / Windows XP Service Pack 3
Intel CPUs: Core 2.2 GHz to Quad Core 3.2GHz
AMD CPUs: Dual Core 2.4Ghz to Quad Core 3.2Ghz
RAM: 2GB to 8GB
Hard Disk Space: 16GB
Video Card: NVIDIA GeForce 8600 GT 512MB to NVIDIA GeForce GTX 580 1536MB or Radeon HD3000 512MB to Radeon HD 6850 1024MB
Sound: 100% DirectX 9 Compatible
Additional: Please refer to your hardware manufacturer and http://www.rockstargames.com/support for current compatibility information. Some system components such as integrated graphics cards may be incompatible. Unlisted specifications may not be supported by publisher.
Additional: Initial activation requires internet connection and Rockstar Games Social Club (13+ to register); software installation required including GameShield IronWrap & Patcher; DirectX, and Microsoft's Windows .NET Framework, and Microsoft Visual C++ 2008 SP1 Redistributable Package (x86).