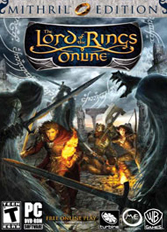 Lord of the Rings Online Mithril Edition (PC)
About This Game
Lord of the Rings Online: Mithril Edition includes:

Exclusive Steed of the Horse-lords' Mount
Travel Middle-earth in style with this exclusive in game mount! Saddle up as early as level 5 and be on your way to adventure much faster than on foot!
Path of the Fellowship Bonus Quests
Forge your own legend in Middle-earth alongside Aragorn, Legolas, and Gandalf. From the Shire to Rivendell - adventure in a masterful recreation of Middle-earth! Includes the Trollshaws, Eregion, Mines of Moria, and Lothlórien.
2,000 Turbine Points
Customize your LOTRO experience with 2,000 points to spend in Middle-earth! Buy cosmetic gear, rare mounts, experience boosts, buffs and more.