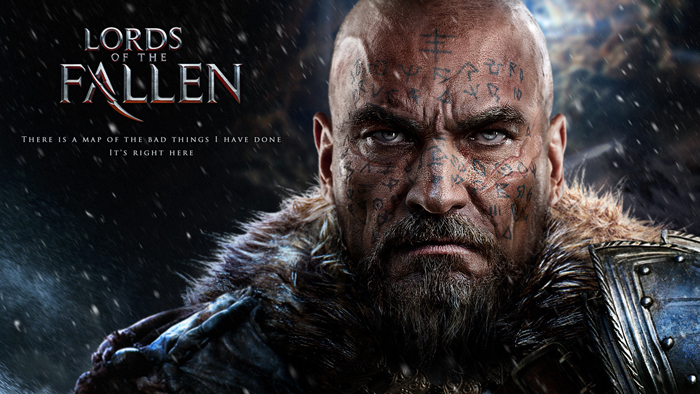 Lords Of The Fallen Limited Edition (PC)
Preorder Lords of the Fallen now and receive additional content for free! Delve into the history of the mysterious Keystone Monastery in an exclusive Monk's Decipher Quest to loot a magical artifact, the Compass, which helps locate hidden items and rooms nearby. Gain the Demonic Weapons Pack consisting of the mighty sword 'Ihir', a blade that is powerful for both attacking and blocking, the 'Margyr', cunning daggers that are your trusted 'friends' in any fight, and finally, the infamous 'Thehk' hammer - named 'thief' in the Adalúk tongue, which leeches magical energy with every strike.

Lionheart Pack
The Courage Armor – skillfully crafted by a master smith and adorned with snarling lions' heads, the true symbols of bravery.
The Scream – this menacing hammer is one of the few human-made weapons that can be inscribed with a magical rune, further enhancing its power.
The Lion's Head - designed for the elite squads of the Nanheim Guard who were famed for their courage in battle. They used this shield to create unbreakable formations. The mightiest warriors can rely on this shield to fend off even the deadly blows of Rhogar Lords.
About the Game
In the Time of the Ancients, the Worldly Realm was ruled by a God of pure evil, who enslaved all humankind under his Dominion. But fear turned to anger as rebellion grew in the hearts of men - until the dawn of the Great Rising, when the fight for freedom began. After a glorious victory that cast aside the Fallen God, humans dictated a new order... a world where no sin can ever be forgiven and redemption was not an option.
Now, millennia later, the world trembles in fear as the Demonic Rhogar Legion returns from their dark realm, driven by a foul hunger for innocent spirits. Humanity, in a desperate last act, calls upon an unlikely defender - a convicted sinner, rejected by society and cast out of the light... a man known as Harkyn. Now, alongside his mentor, Kaslo, they must travel to the source of the Darkness... to face the Lords of the Fallen.
Plunge into a fast paced action RPG with a complex and satisfying melee combat system where weapons, armor and skills directly influence the enemy's speed and attacks... if all else fails, lay waste to your foes using forbidden magic power.
Features
Embark on an Epic Quest that spans both human and demonic realms
Confront the mighty Lords, generals of the Rhogar army
Explore a vast dark fantasy world
Make your choices wisely as they may seal your fate
Wield legendary weapons and armors from a vast arsenal
Choose your class: Warrior, Cleric or Rogue and fully customize each with skills and weapons
System Requirements
Minimum:
OS: Windows Vista (SP2), Windows 7 (SP1) or Windows 8 (only 64 bit OSs
Processor: Intel Core 2 Quad Q8400 @ 2.66Ghz or AMD Phenom II X4 940 @ 3.0Ghz
Memory: 6 GB RAM
Graphics: GeForce GTX 460 or better
DirectX: Version 11
Hard Drive: 25 GB available space
Sound Card: DirectX 9.0c Compatible Sound Card with Latest Drivers
Recommended:
OS: Windows Vista (SP2), Windows 7 (SP1) or Windows 8 (only 64 bit OSs
Processor: Intel Core i7-3770 @3.5 GHz or AMD FX-8350 X8 @ 4 GHz
Memory: 8 GB RAM
Graphics: GeForce GTX 560 ti or better
DirectX: Version 11
Hard Drive: 25 GB available space
Sound Card: DirectX 9.0c Compatible Sound Card with Latest Drivers