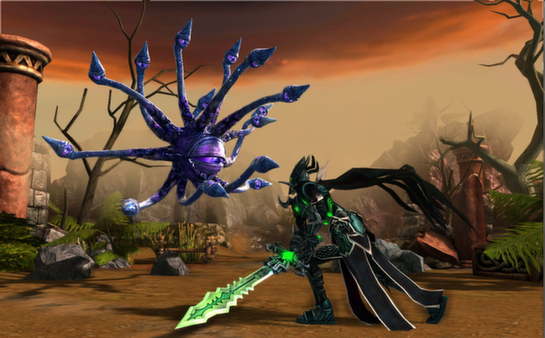 Might & Magic: Heroes VI - Shades of Darkness (PC)
About Might & Magic: Heroes VI - Shades of Darkness (PC) Game Key
A century after the tragic events of Might & Magic Heroes VI, that determined the heroic fate of a dynasty, Shades of Darkness recounts, in two original campaigns, pivotal moments in Ashan's darker history that will define the future of a decadent underground people and decide the survival of the dying cult of the Spider Queen. Determine the fates of two legendary factions; the Dark Elves of Dungeon and the Necromancers of Necropolis.
Master the Powers of Darkness: Lead the new Dungeon faction on a path to define the destiny of the Dark Elves, as they seek to become masters of deception, stealth, and assassination. Their future lies with Malassa, the Dragon Goddess of Darkness. Befriend her mysterious children, the Faceless, and if you dare, awaken her avatars, the legendary Black Dragons!
New Content & Original Tactics: a full new lineup of 7 creatures, new hero classes, a new town and buildings set, a new mount, dozens of new artifacts, abilities and achievements. The Dungeon gameplay is completely original and tactically challenging.
Ashan's Darkest Paths: Play two original and thrilling campaigns starring two fan-favorite factions and their legendary heroes pitted against villains of mythical stature. Discover the fascinating nuances of Darkness that the rich and proven fantasy setting of Might & Magic is excited to unveil. There is always an even darker path.
While it's true that Might & Magic Heroes VI Shades of Darkness is an expansion of the main game, that should've dissuade you from playing it if you're new to the franchise. Because of the gaps between this expansion and the main title, very few things are spoiled, and you'll be able to use this as a springboard to get into the series!
You'll get to see the rich RPG and strategy gameplay that have made this series so famous, and get to explore a world filled with unique beings and characters. So start, or continue, your journey in Might & Magic Heroes VI Shades of Darkness.