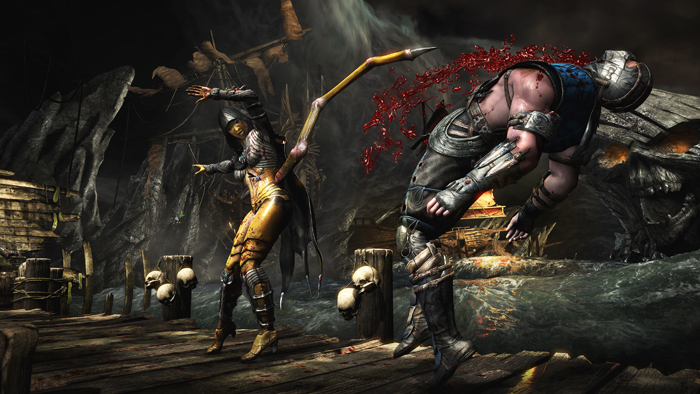 Mortal Kombat X
Bonus:Goro
Purchase now and you'll receive Legendary fighter, Goro, as a bonus playable character
About this game
Featuring Klassics such as Scorpion, Sub-Zero, Raiden and Kano, as well as new characters such as Cassie Cage, Kotal Kahn, Ferra-Torr and D'Vorah, the roster will include fan favorites where both good and evil must battle it out.
Mortal Kombat X offers three different versions for each playable character, all of which have their own fighting style, special moves, abilities and strategies.
A deep story mode continues up to 25 years after the events of 2011's Mortal Kombat and advances the dark tale - introducing new characters such as Cassie Cage, daughter of fan favorites Sonya Blade and Johnny Cage.
Mortal Kombat X introduces the next evolution of fighting with the return of X-ray and Finishing Moves that showcase brutal battles like never before with enhanced graphics and animations.
The Most Brutal Kombat Experience Ever
Mortal Kombat X combines unparalleled, cinematic presentation with all new gameplay to deliver the most brutal Kombat experience ever. For the first time, Mortal Kombat X gives players the ability to choose from multiple variations of each character impacting both strategy and fighting style. And with a new fully-connected gameplay experience, players are launched into a persistent online contest where every fight matters in a global battle for supremacy.

This is a true compilation of Mortal Kombat history, as Mortal Kombat X not only brings back classic characters such as Raiden, Sonja Blade, Johnny Cage and more, but introduce brand new characters for you to enjoy such as Cassie Cage, D'Vorah, Ferra, Kotal Khan, and much, much more.
Plus, DLC adds even more fun when characters such as Jason from Friday the 13th, the Predator, Alien, and more adds their skills to an already robust roster. This may just be the definitive Moral Kombat experience. So, get your fighters ready, and prepare for combat. Moral Kombat.