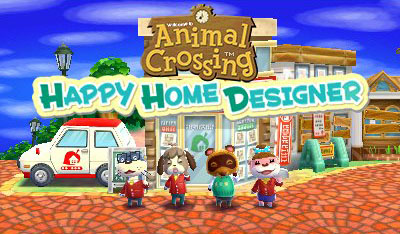 Animal Crossing: Happy Home Designer - NINTENDO eShop Code (3DS/EU/Digital Download Code)
About NINTENDO Animal Crossing: Happy Home Designer eShop Code 3DS (EU) KEY
Get a free code for an Animal Crossing: Happy Home Designer HOME Menu theme when you buy this game from Nintendo eShop.
Show off your style by designing homes for all of your favorite Animal Crossing villagers! Use your creativity to design the perfect houses—inside and out—for both old and new friends. With the new amiibo cards, you can call your favorite villagers into the game.
Game includes one special character amiibo card*
Design the interior and exterior of hundreds of homes for animal villagers
Leave your decorative touch on the school, hospital and other public facilities
Collect and Connect - Collect and share amiibo cards of your favorite villagers, and invite them into your game. Tap amiibo cards to invite up to four characters into a room to hang out. Tap the amiibo cards of special characters to call in animals that would otherwise not appear in your game with requests.
Just when you think that Animal Crossing can't get any more personal, or personally stylish, Animal Crossing: Happy Home Designer proves you wrong. Now, you don't have to worry about running a whole town, or running a whole life, your whole focus is your own! And the homes of others of course. What kind of style will you leave on each place?
Will you make the hospital happy and cheerful? So that any who go there won't feel so bad about having to be there? Or what about the school? Will you make it so that kids will love going to every single classroom there is? Or if the mayor calls and asks you to do his office, will you make it fitting to a man of his position?
Animal Crossing: Happy Home Designer gives you the freedom to decorate any way you want, all in the hopes of making the Animal Crossing villagers happy, as well as yourself! So get decorating!
Features:
Game includes one special character amiibo card*
Design the interior and exterior of hundreds of homes for animal villagers
Leave your decorative touch on the school, hospital and other public facilities
Collect and Connect - Collect and share amiibo cards of your favorite villagers, and invite them into your game
Tap amiibo cards to invite up to four characters into a room to hang out
Tap the amiibo cards of special characters to call in animals that would otherwise not appear in your game with requests