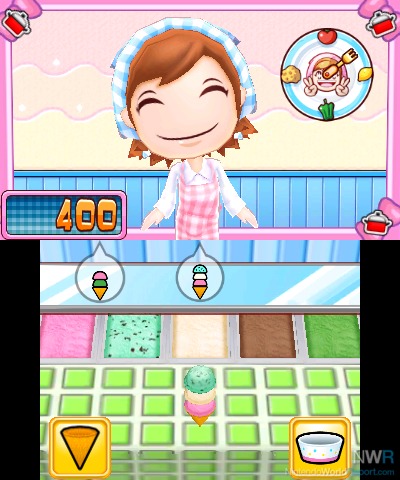 Cooking Mama 5 - NINTENDO eShop Code (3DS/EU/Digital Download Code)
About the game
The original kitchen diva that created the cooking genre is set to school you with brand new mouth-watering recipes and household mini-games. Cook your way through classic fare, exotic cultural dishes and sweet treats to delight the palate! Fun stylus-based activities will keep you busy around the house and prove to Mama that you've got the culinary chops to play in her kitchen! Key Features: The latest addition in the successful Mama franchise: 13 million+ games sold worldwide! Unlock 60+ recipes as you progress.
Step out of the kitchen and help Mama with more than 30 new activities around the shop and house: feed the birds and fish, deliver orders, make change, serve ice cream, wash dishes, pick apples, organize, draw and more. Six gameplay modes feature intuitive stylus-based activities: Let's Cook: Create recipes step-by-step with Mama on hand to help you.
Help Harvest: Gather your ingredients for kitchen recipes. Let's Help Mama: Step outside the kitchen and assist Mama as CEO of the household with fresh activities that make chores fun and rewarding. Let's Study: Number and word games mix up the kitchen fun. Earn furniture and decorations via SpotPass to customize your menus and game screens. Make your kitchen your own with stained glass, wallpaper, picture frames, plants, holiday items and more. You can even customize Mama's outfit!
There's a lot to do in Cooking Mama 5, some of it familiar, and a lot of it fresh. There's all kinds of dishes you can make. From the simplest of meals, to full-on courses, and all while getting help from the Cooking Mama herself! With the 3DS the franchise has never looked better, and you'll be able to see just how deep your cooking goes with the 3DS slider.
Make a meal, make many, and see how good your cooking can get with Cooking Mama 5.