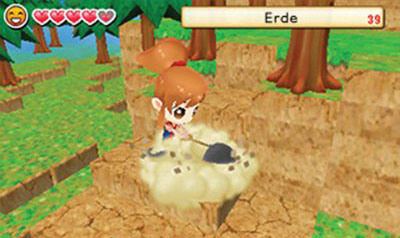 Harvest Moon: The Lost Valley - NINTENDO eShop Code (3DS/EU/Digital Download Code)
About NINTENDO Harvest Moon: Das verlorene Tal eShop Code 3DS (EU) KEY
Hiking your way through the mountains one day, you become caught in an unexpected snowstorm, and find shelter with the help of a faint voice. When you awaken, you find and help a kindly Harvest Sprite buried under the snow, who tells you all of the seasons in the valley have vanished except for winter. To return all 4 seasons to the valley, you'll need the help of the villagers, the Harvest Sprites, the Harvest Goddess, and even the King of the Underworld! You've never played a Harvest Moon game quite like this!
The first Harvest Moon game with a fully three-dimensional setting, allowing players to dig, stack, and till the soil any way they like!
New and innovative controls! With Harvest Moon: The Lost Valley's context-sensitive controls, players won't have to rummage through their rucksack anymore! Players can choose whether to play as a boy or a girl, woo their favorite bachelor or bachelorette, get married, and start a family! Reinvented crop and animal systems!
The Harvest Moon franchise is one of the most beloved series in the Nintendo lineup, and now, you get to experience the masterful series by witnessing it evolve into a 3D game with Harvest Moon: The Lost Valley! Plus, with a story unlike any players have witnessed before, there's a sense of depth and even urgency that'll want you to complete the game so you can get the happy ending that you, and this world, deserves.
But of course, that doesn't mean that the classic Harvest Moon gameplay is lost, oh no, Harvest Moon: The Lost Valley gives you all the farming and life simulating gameplay you know and love. Will you be a family man by the time this is done? Or will you be happy with a single life living amongst your craps and animals? There's no wrong answer, unless your answer doesn't make you happy!