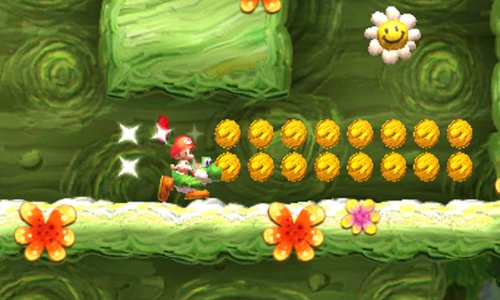 Yoshi's New Island - NINTENDO eShop Code (3DS/EU/Digital Download Code)
About NINTENDO Yoshis New Island eShop Code 3DS (EU) KEY
Crush your surroundings and create paths with his new Mega Eggdozers in a brand-new platforming adventure! It'll take more than egg tosses and flutter jumps to lead fledgling Mario through a dangerous new island littered with inventive power-ups. Can you save poor Luigi?
Guide Yoshi and a young Mario through all-new stages, from slippery slopes to watery wonderlands. As Yoshi fans know, it's all about the collectibles and they're more enticing than ever to find. You'll need the new Mega Eggdozers to beat puzzling platforming moments and locate every collectible and surprise. They're hiding—are you seeking?
Discover a new island chock full of clever platforming challenges. Crush your surroundings to find new paths and secrets with the Mega Eggdozer. Immerse yourself in a delightful, Yoshi-ridden world.
Welcome to Egg Island. This is the fantastical home of Yoshi and all of his colorful friends. The island is packed with secret areas, collectibles, puzzles, and of course, lots of enemies.
You'll have to fight a lot of enemies to get Mario and Luigi back together! Kamek is pulling out all the stops to keep Yoshi from reuniting the brothers. Watch out for his super-sized minions like Big Beanie and Count Fang!
The Yoshi's Island series is one of those Nintendo franchises that came out of nowhere, yet felt that it was there all along. Explore the history of the green dinosaur and why he's so close to Mario and Luigi, all the while protect Mario from threats from all over! Don't worry though, Yoshi has a ton of skills he can use, and you'll find more and more things to do as you go through the island.
All of that, plus, you can get a friend to play with you for even more enjoyment! You'll unlock 2-player minigames as you progress through your single-player adventure. Connect with a friend's system using local Wireless or Download Play and show off your Yoshi skills!