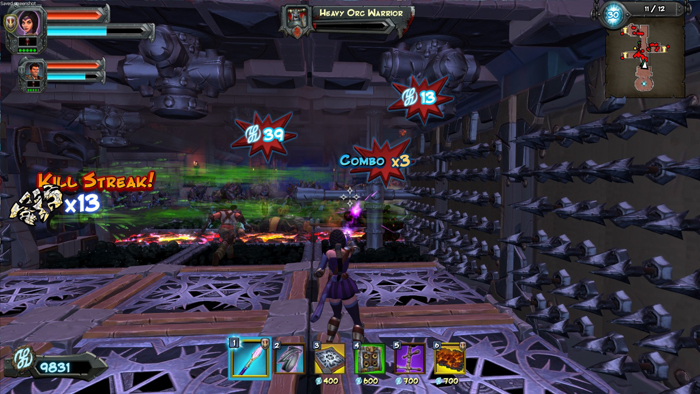 Orcs Must Die! 2 (PC)
About This Game
You've tossed, burned and sliced them by the thousands – now orcs must die more than ever before! Grab a friend and slay orcs in untold numbers in this sequel to the 2011 AIAS Strategy Game of the Year from Robot Entertainment.
Leap back into the fray as a powerful War Mage or crafty Sorceress. Defend new fortresses and dwarven mines, laying waste to thousands of orcs and other monsters with a dizzying array of weapons, spells, guardians, traps, and trinkets. Play co-op with a friend and continue the battle in a brand new campaign mode, or fight to stay alive in the challenging new Endless Mode!
Unlock new defenses and old favorites, upgrade them like never before, and unleash them on the nearest pile of slobbering orcs!
Co-Op! - Play as the War Mage, the headstrong hero who charges into danger, or play as the more strategic Sorceress who keeps the mob at bay with mind-control and magic.
Story-based Campaign – Pick up where the original game left off with a brand new story-based campaign that you can play in Single-Player or Co-Op!
New Endless Mode - Play alone or join a friend to put your skills to the test against endless waves of increasingly difficult enemies.
Classic Mode - Steam players who own the original Orcs Must Die! will automatically unlock co-op versions of 10 levels from the original game featuring new enemies!
Just because the game is called Orcs Must Die! 2, doesn't mean that the orcs themselves aren't a threat. In the game you'll have to face 20 different enemies, including some that aren't even orcs! You'll face trolls, bats, creatures with weapons, and much more.
But fear not, you'll be ready! There's a vast assortment of weapons and traps that you can use to make sure the orcs die, and stay dead. Plus, you can upgrade your traps and weapons so that they're even deadlier.