Overruled!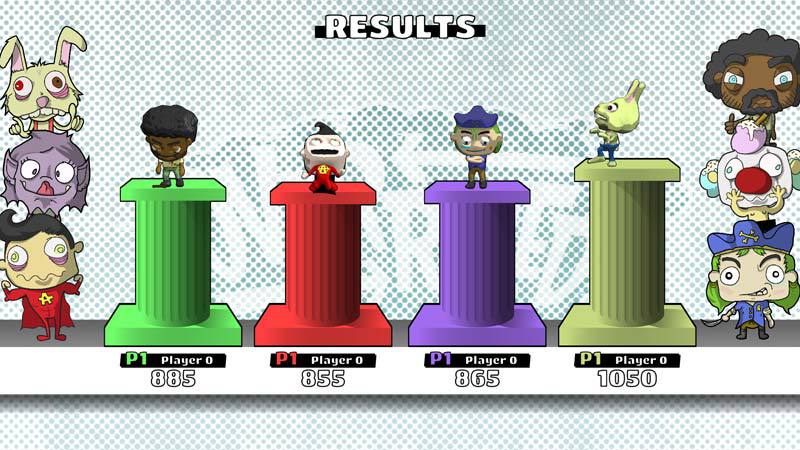 EARLY ACCESS GAME
---
Get instant access and start playing; get involved with this game as it develops.
?We've been big fans of early access, and how it allows games to grow, since it's launch. The reason this game is in early access is because it's been silo'd off and built by us as we would want to play it. The cards, game modes, characters, levels are all things we wanted in the game as players. However we're a small group of people and we really want to see what the community as a whole wants to see in this game. We know that by getting the community involved in the evolution of the game it's going to be better than we could do on our own.ン
?The plan is not long. We feel that what we are releasing is a really great game experience already. However we're aware that we've never done a game using online matchmaking before and we want to make sure that we can get that as stable as possible before putting it into full release. We also want to make sure that we get the community involved as much as possible, telling us what they want to see in the forms of cards, game modes, levels and more.ン
?So the full version is going to contain more cards, more characters, more levels and more features and most importantly these are all things which the community is going to help us plan and build out.ン
?If we were releasing this as a local only multiplayer I would say this game is fully at launch quality, however we're not and we have no real way of testing the online multiplayer until we have more of you playing it. Beta testing went well and so we're hoping that you guys will all have an awesome experience that we can tweak and balance just right.ン
?Yes, early adopters will benefit from a cheaper price and, even better, get to play and shape Overruled from day one!ン
?We want to involve the community as much as possible. This is a game built to get people arguing and in a room together again. We have made the game as we want to play it but now it's time for the community to tell us how they want to play it and what they want to see. We've built a pipeline that allows us to get new characters, cards and game modes in very quickly so we can act on what you guys want to see.ン
---
NOTICE: Activation key must be used on a valid Steam account, requires internet connection.
ABOUT THE GAME
---
Overruled
is a multiplayer brawler like no other - players change the rules as they play, directly influencing the dynamics and direction of combat.
Challenge up to three friends with both local and online multiplayer to a battle ᄀᄚ The end result is simple - the person with the most points wins the game! It?s the madness that happens as the clock clicks down that makes Overruled extra special. Use over 25 change ?em-up cards to mess things up and alter the gameplay to best suit your style and annoy your opponents - no game is ever the same!
Don?t incite the enemy as they are the master of your fate! You could be playing Deathmatch now, but one of your rivals might decide to change it to Swag Bag? Or King of the Hill... Or Capture the Flag? Or?
Everyone dead? Double the respawn timer. Not doing so well by yourself? Turn on teams. Got the swag bag? Double the points you earn.
An ever-growing diverse cast of madcap characters will keep you company as you and your friends battle for victory and, more importantly, bragging rights!
CURRENT FEATURES
---
7 Levels
9 Characters
7 Game Types
Over 30 different rule changing cards (change em ups)
5 Single Player Challenge Campaigns
Local Multiplayer
Online Multiplayer
Steam Achievements & Leaderboards
Tweakable pre-game options to play overruled how you want to play it
Unique VO for each character
OST - Digital version of soundtrack
UPCOMING FEATURES
---
More Characters
More Single Player Campaigns
More Levels
More Change Em Ups
Level Editor
SYSTEM REQUIREMENTS
---
Windows
MINIMUM:
Processor: Dual Core CPU
Memory: 2 GB RAM
Graphics: Nvidia GeForce 8600GT; ATI Radeon HD4650; Intel HD3000
Network: Broadband Internet connection
Hard Drive: 400 MB available space
Sound Card: Windows Compatible Card
Mac
MINIMUM:
OS: OSX 10.8 Mountain Lion
Processor: 2.13GHz Intel Core 2 Duo
Memory: 2 GB RAM
Graphics: Nvidia GeForce 9400M 256MB
Network: Broadband Internet connection
Hard Drive: 400 MB available space
Linux
MINIMUM:
OS: Major Linux Distributions from 2010
Processor: Dual Core CPU
Memory: 2 GB RAM
Graphics: Nvidia GeForce 8600GT; ATI Radeon HD4650; Intel HD3000
Network: Broadband Internet connection
Hard Drive: 400 MB available space