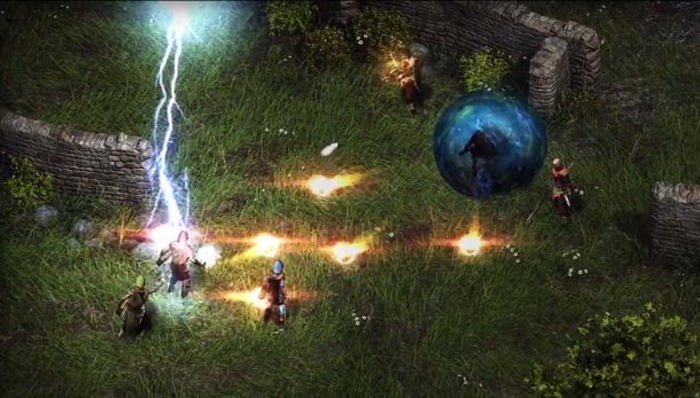 Pillars of Eternity Hero Edition VPN Version (PC)
Bonus
Light is central to these two in-game items in tow designed to boost your gaming experience and add to your level of immersion.

Giant Miniature Space Piglet: Traverse the enchanting plains of Eora with a glow in the dark companion.

Gaun's Pledge: This item gives the ability to shield yourself from the perils that roam the world of Eora. A mystical ring with interlocking sickles that brings life where death looms. Gaun's favored implement, symbolic of the cycle of the harvest he oversees. Like its namesake, it is known to provide powerful support to those in need of defense.
Pillars of Eternity:

Prepare to be enchanted by a world where the choices you make and the paths you choose shape your destiny. Obsidian Entertainment, the developer of Fallout: New Vegas™ and South Park: The Stick of Truth™, together with Paradox Interactive is proud to present Pillars of Eternity.

Recapture the deep sense of exploration, the joy of a pulsating adventure, and the thrill of leading your own band of companions across a new fantasy realm and into the depths of monster-infested dungeons in search of lost treasures and ancient mysteries.

So gather your party, venture forth, and embrace adventure as you delve into a realm of wonder, nostalgia, and the excitement of classic RPGs with Obsidian's Pillars of Eternity!
Features
Play as any one of six races: Human, Aumaua, Dwarf, Elf, Godlike and Orlan.
Utilize five core skills to overcome any situation: Stealth, Athletics, Lore, Mechanics and Survival.
Deep character customization: Build a character as one of eleven classes such as Barbarian, Chanter, Cipher, Druid, Fighter, Monk, Paladin, Priest, Ranger, Rogue and Wizard.
Sculpt your own story: Side with various factions using a reputation system, where your actions and choices have far reaching consequences.
Explore a rich and diverse world: Beautiful pre-rendered environments laced with an engaging story and characters bring the world to life.