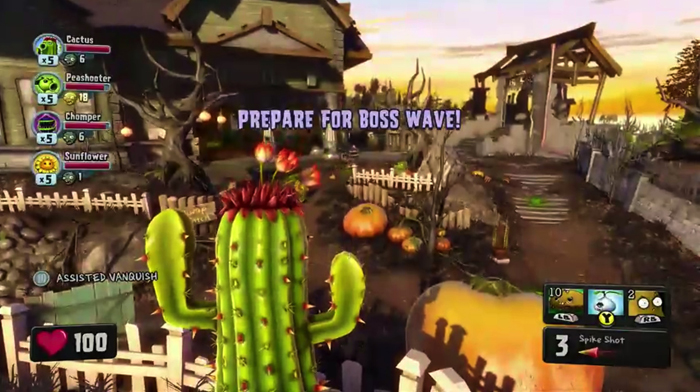 Plants vs. Zombies: Garden Warfare (PC)
About this game
Plants vs. Zombies Garden Warfare digs into the trenches with an explosive action experience. Blast zombies, plants and unique characters across a mine-blowing world that delivers the depth of a traditional online shooter and the refreshing humor of the Plants vs. Zombies universe.
The Digital Deluxe Edition is the best way to start the Garden Warfare action, scoring you your first 150,000 coins to spend on customization options in addition to an Origin-exclusive Custom Accessories Pack.
Multiplayer focused. The neighborhood swarms with as many as 24 players teaming up to control more than ten different battlegrounds. Garden Warfare features multiple competitive and cooperative gaming modes, so pick your side and master the nuances of each playable character.
Customize Like Crazy. Every score and every victory rewards you with coins which can be spent on Sticker Packs that unlock new load-outs, playable characters and more. The more you play, the more you'll unlock – and the better you'll dominate the neighborhood.\
Free Updates. The action in Garden Warfare continues to evolve with fresh content. Here are two great additions since the game's launch:
Suburbination. Trounce the competition in the Suburbination game mode, in which zombies and plants fight for control of three capture points. The plants want them for their fertile soil, the zombies for their fertile… brains. Suburbination also includes the desert suburbia-themed "Crash Course" map, additional Garden Ops bosses and the community-created Plasma Pea Shooter variant.
Plus, there's fun twists on the modes you might know from other games, including a rousing new mode called "Capture the Taco". That's right, the taco instead of a flag. As plants, you'll have to defend a local taco stand from getting overrun. Or, if you play as zombies, you can try and get the tacos for yourselves, because even zombies can't resist tacos.
This is only the start of the fun that you can enjoy with Plants vs. Zombies Garden Warfare. Take the plunge into suburbia, choose your side, and let the battle begin!