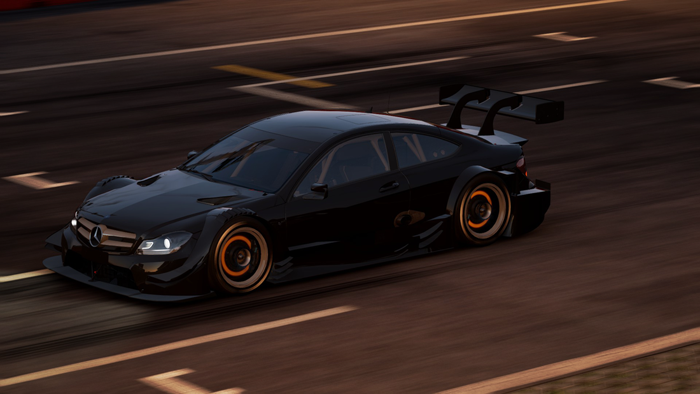 Project Cars Limited Edition
Limited Edition
Presented in a beautiful steel case along with five legendary cars drivable in any game mode and showcased with special one-make series within your career...
McLaren F1
Featuring a central driver seating position and butterfly doors, the McLaren F1 has a lightweight, streamlined body hiding an engine capable of 240mph and a 0-60 time of just over 3 seconds. To this day it remains one of the fastest production cars ever made.
Sauber C9
With a top speed of 248mph, the Sauber C9 was a Group C Prototype that still holds one of the fastest records at Le Mans. In the 1989 season it won all but one race of the World Championship making it a dominant force on the track and an aspirational legend.
BMW M1 ProCar
During its years participating in a bespoke one-make series, Group 4 events, and various national series, the M1 Procar saw many legendary drivers such as Niki Lauda and Nelson Piquet behind the wheel and even a custom paint job by visionary artist Andy Warhol.
Mercedes-AMG C-Class Coupé DTM
With its predecessor being the most successful car in the 28-year history of DTM, the AMG C-Class Coupé is a stronger, safer machine built on a naturally-aspirated V8 engine and incorporating larger wheels and a huge rear wing to make it one of the most competitive cars running in DTM today.
1967 Ford Mk IV
Winner of both the 1967 Le Mans 24H and Sebring 12H, and driven by legendary driver Mario Andretti, the Mk IV was ahead of its time breaking new technical ground that has influenced car construction through to the modern day where it still holds the record of being the only American car to have ever won the classic endurance race.
With a combined top speed of over 1200 km/h and with 2000+ horsepower between them, the BMW M1 Procar, Mercedes C-Coupe DTM, McLaren F1, and Sauber C9 are all leading examples in sports, touring, and prototype car culture ready for you to push to the limit out on the track in all game modes.
About the Game
Project CARS is the most authentic, beautiful, intense, and technically-advanced racing game on the planet.

Create a driver, pick from a variety of motorsports, and shift into high gear to chase a number of Historic Goals and enter the Hall Of Fame. Then test your skills online either in competitive fully-loaded race weekends, leaderboard-based time challenges, or continually-updated community events.

Featuring world-class graphics and handling, a ground-breaking dynamic time of day & weather system, and deep tuning & pit stop functionality, Project CARS leaves the competition behind in the dust.
FEATURES
CARS
With a huge range of cars and motorsports on offer - everything from road cars, US muscle, and supercars, to GT, Le Mans Prototypes, open wheel, and even karts; whatever your passion, there's something perfect for you - with more being added regularly!
CAREER
Create a driver, choose a starting motorsport, and sign your first contract. Succeed and you'll get offers from other teams, special invitations, and endorsements. Grow, evolve, and pursue a number of Historic Goals with the ultimate aim of being recognised in the Hall Of Fame.
ONLINE
Create your own public and private race weekends including full practice, qualifying, and warmup sessions or browse and search all games currently being played across the globe to find the perfect game with others of your skill level and preference.
ULTIMATE VARIETY
Race on over 60 unique tracks including closed circuits and point-to-point locations at any time of day and in ever-changing weather conditions.
Play pre-defined championships in Season Mode, create your own, or simply visit the Test Track to tweak under the hood in on-track testing. The freedom is yours.
The Limited Edition of Project CARS includes the upgrade DLC pack, unlocking 5 legendary cars drivable in any game mode and showcased with special one-make series within your career!
Ford GT40 Mk IV
BMW M1 Pro Car
McLaren F1
Sauber C9
Mercedes-Benz AMG C-Coupe DTM
HE DRIVER NETWORK
The Driver Network allows players to connect, compete and share their Project CARS experience. Face off against each other by comparing stats, track your career progress, and share your highlights. Build up your Affinity with certain motorsports, and strive to retain strong Performance and Reputation ratings. Then challenge your friends and the worldwide community in asynchronous Time Trial challenges with downloadable Ghosts, or compete in a regularly-updated season of special community events - sometimes even for real-world prizes!
BEYOND REALITY
Project CARS is ready out of the box to hook up to your 4K television, Oculus Rift or Project Morpheus headset, nVidia Shield, or latest steering wheel setup. Plug in and sit back to experience gaming like you've never before; either with cinematic clarity or virtual reality immersion.
CHECK FOR MORE INFORMATION ON: www.projectcarsgame.com