Quarries of Scred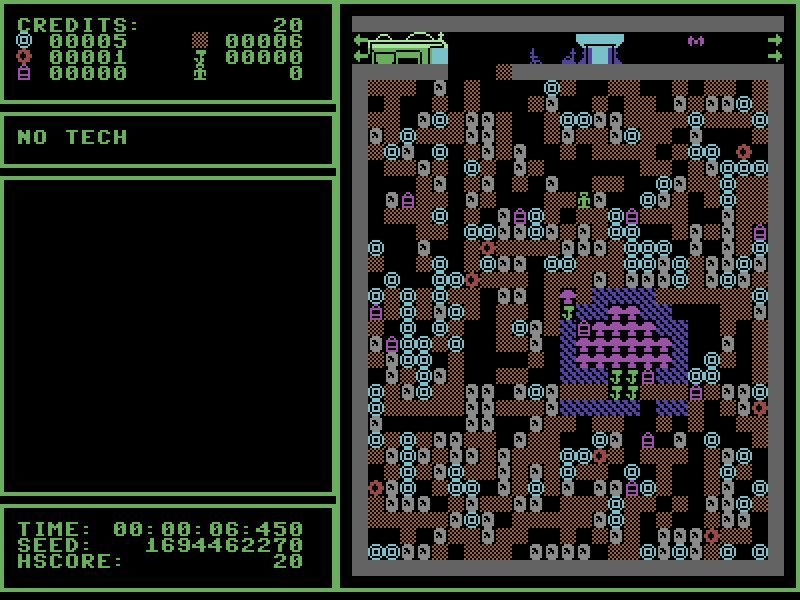 NOTICE: Activation key must be used on a valid Steam account, requires internet connection.
ABOUT THE GAME
---
Welcome to the
Quarries of Scred
. You will surely perish.
Bringing classic arcade games right back to the 1980?s, Quarries Of Scred is an unapologetically brutal, authentically retro arcade game designed to see just how far you?ll go to risk your bounty.
You are Bob, who is a bad man. For reasons unknown, Bob must work the quarry to pay off his debts. Collect dirt, diamonds and other valuables but avoid causing the rocks to fall on to your head or to block the path back up. You?ll question your sanity as you dive deeper into the quarry, hoping to return with a larger reward and praying you will not be killed at the hands of a falling rock or the creatures dwelling within. Die, as you surely will, and a new quarry is generated, with a new trove of treasures and dangers.
Released in an early form in 2014 via Itch.io and regularly updated, Hammerspace Games has teamed up with indie label Surprise Attack Games to bring the ultimate version of Quarries of Scred to Steam and other digital storefronts.
KEY FEATURES
---
A Procedural death trap is a happy death trap: A new and unique quarry awaits you every time.


Daily Quarry: each day a new standardised quarry will open up. Compete against fellow gamers to be Top Bob.


Authentically Retro: harking back to the early 80?s, play in EGA, CGA or Monogreen graphics styles as well as multiple sprite set variations from contributing guest artists.


Multiple Game Modes: see how much you can earn before you die in Normal, Darkness, Blink and 60 & 120 Second Challenge modes.


Sweet gear: why pay off your debt when you can spend all your new riches on lasers and gravity inverters.
SYSTEM REQUIREMENTS
---
Minimum:
OS: Windows XP SP3 / 7 / 8 or higher
Processor: Intel 1.0 GH or equivalent AMD
Memory: 256 MB RAM
Graphics: DirectX 9.0c compatible card with 128 MB VRAM
DirectX: Version 9.0c
Hard Drive: 225 MB available space
Recommended:
OS: Windows XP SP3 / 7 / 8 or higher
Processor: Intel 1.0 GH or equivalent AMD
Memory: 512 MB RAM
Graphics: DirectX 9.0c compatible card with 128 MB VRAM
DirectX: Version 9.0c
Hard Drive: 225 MB available space