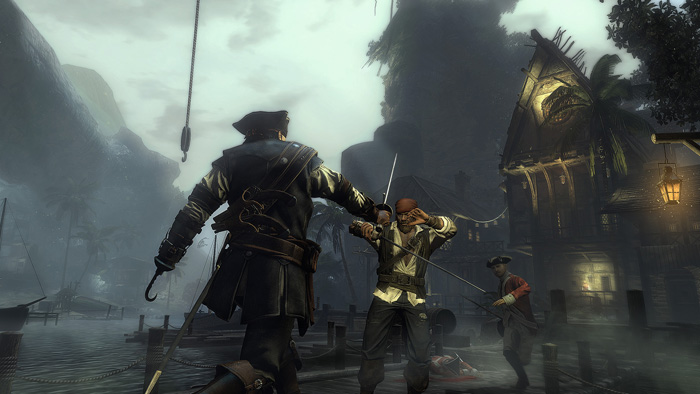 Raven's Cry
About the Game
"Raven's Cry" is a third person RPG-adventure game that combines fast-paced swordplay, thrilling naval battles, and free ranging explorations through undocumented islands and historical towns. A cadre of colourful cutthroats will cross your path on your travels, all with their own motivations and plans, but make sure to choose your crew with care!

The fast paced combat system in Raven's Cry is based on the traditional art of fencing, combined with historical firearms, the always messy hook, and good old fashioned street fighting, allowing players to dispatch foes in a variety of grisly ways. Christopher's hook acts as both a symbol of his childhood tragedy and a brutal tool of his revenge, playing a crucial role in "Raven's Cry". Upgrade your abilities and learn new skills and attacks that will make your enemies literally tremble in fear. How you kill is up to you, and as long as Christopher is the last man standing, no trick is too dirty, and no attack is off limits. The more violent and depraved your actions become the more you will influence your surroundings, as both foes and citizens alike will learn to fear you, sometimes with unexpected consequences. Regardless of whether you play as a badass or just a plain bad guy, "Raven's Cry" offers multiple ways to gain victory; it's up to you to decide if Christopher reaches his goal with his soul intact.

Christopher's raven has been with him since the day his family was killed, always reminding him of how much he has lost. Much like his fearsome hook, the raven has become a tool of Christopher's revenge, strangely seeming to be linked to Christopher, almost as if it understands his wishes…and desires revenge as well.

Christopher takes control of various ships on his crusade, and few are acquired legally. He can gain a reputation on the high seas just as easily as he can in port, and your actions will influence your enemies, causing them to be cautious of you and keep their distance, or forcing them to join up with other pirates to attack you en masse. Christopher is not without resources of his own however, as his ships can be upgraded and customized for a price. Christopher can also fly different flags, misleading his enemies and hiding his identity.

As captain of the ship, you must maintain complete control of your ship and crew at all times. Your men will follow your orders, but you must make sure they're well taken care of to ensure their complete cooperation. A crew's morale is the lifeblood of any vessel, and they will complete their ordered tasks as well as you treat them. No matter how well you care for your crew, sometimes as captain you just have to do things yourself. "Raven's Cry" offers few "helping tools" during battle, so you must be on your toes and ready to act at a moment's notice. "Raven's Cry" is more interested in realism than hand-holding, so you'll find no beams of light showing your cannon-ball trajectory, nor will an auto aim assist you in precision shots to take out your enemies masts. Gain enough experience, and you'll earn new skills, like the passive "pack rat" that allows you to store more goods on your vessel, and the feared "son of a gun" perk that increases the damage you deal with your firearms and cannons.

Christopher is dedicated to his revenge, but waging a one-man war can be expensive, and Christopher is far from rich. Earning gold is critical in "Raven's Cry", and there are a variety of ways to obtain it; from smuggling and trading, to looting and robbing, Christopher must keep his coffers well stocked in order to be prepared for what's to come. Gold and information are the most important currencies in "Raven's Cry", and more often than not, the two go hand in hand.
.
Story
Torn from his family as a boy, Christopher Raven is trapped between haunting memories of his past and a meaningless future. When new information leads Christopher to believe his family's killers are still alive, he sharpens his hook and sets out on a grisly quest for revenge.

Fleeing from the famines of Europe, young Christopher and his family sailed to the brave new world, looking for a fresh start. But old grudges and new dangers await them in the shining tropical paradise, and a sudden outburst of violence takes both Christopher's family and his left hand in one blood soaked afternoon. The brutality of that day sticks with him, slowly driving him mad as he dreams of bathing in the blood of the men who killed his kin. Christopher is a man without a family, a purpose, or a future.

One day, a chance encounter with a mysterious ship produces a clue; a bloody sigil suggesting that the merciless band of pirates, the Devil's Tines, and their fearsome captain, Neville "The Devil" Scranton, have returned to the Caribbean after long being thought dead. Twisted by years of rum and hate, a morally bankrupt Christopher sets sail on a quest that will take him to the furthest reaches of the Caribbean and the blackest corners of the human heart.

With his strange and ever present raven circling overhead, Christopher moves like a spectre of death throughout the Caribbean, where the only acceptable outcome is death for either him or his enemies. Christopher has nothing to lose, and will either find his revenge, or die in a river of his enemies' blood. Welcome to Raven's Cry.
.
Features
Beautiful cinematic cut scenes bring Christopher's dark quest to life
The open world of the Caribbean features a robust core storyline as well as dozens of side quests and secrets waiting to be explored
Countless activities to take on, from smuggling and looting to treasure and bounty hunting
Morally grey decisions influence the story and character interactions, creating a unique gaming experience
Psychological elements based on player actions influence the fighting styles and habits of your enemies.
Complex and unique skill trees on both land and sea are affected by Christopher's notoriety level
Unlockable raven skills give your bird more to do than fly around, as it takes an active role in your adventure
A challenging fighting system based on classic hack'n'slash action and tactical free-flowing combat includes blocks, counters, parries and finishing moves
Detailed and historically accurate weapons and ships bring the 18th century Caribbean to life.
Special combos with the unique and brutal hook
Fighting influenced by your surroundings; wet pistols may not fire, and muddy swamps will slow your offensive and defensive actions
Intense naval battles with myriad ships and multiple ammunition types replicate the brutality of historic naval battles
Notoriety and interchangeable flags influence the behaviour of the different controlling factions in the Caribbean
Rumors and whispers; information and knowledge are as precious as gold. Keep your ear to the ground and learn hints and information about lost treasures and dangerous enemies.
Extensive economic system; knowing where to sell coffee, chocolate and Marijuana and other supplies will give you maximum return on your cargo
Detailed and realistic locations in both the Caribbean and South America
PC System Requirements
Minimum:
OS: Windows Vista / 7 / 8 / 8.1
Processor: Intel / AMD Dual Core CPU with 2.0 GHz
Memory: 4 GB RAM
Graphics: nVidia / AMD graphics card with Shader 3.0 support
DirectX: Version 11
Network: Broadband Internet connection
Hard Drive: 6 GB available space
Sound Card: required
Additional Notes: Mouse, Keyboard
Recommended:
OS: Windows Vista / 7 / 8 / 8.1
Processor: Intel / AMD Quad Core CPU with 2.0 GHz
Memory: 8 GB RAM
Graphics: nVidia GTX 560 or better, AMD Radeon HD 7750 or better
DirectX: Version 11
Network: Broadband Internet connection
Hard Drive: 7 GB available space
Sound Card: with 5.1 support
Additional Notes: Mouse, Keyboard or Controller
Mac System Requirements
Minimum:
OS: Mac OS X 10.7
Processor: Intel Mac Dual Core CPU with 2.0 GHz
Memory: 4 GB RAM
Graphics: with Shader 3.0 support
Network: Broadband Internet connection
Hard Drive: 6 GB available space
Sound Card: required
Additional Notes: Mouse, Keyboard
Recommended:
OS: Mac OS X 10.7 or later
Processor: Intel Mac Quad Core CPU with 2.0 GHz
Memory: 8 GB RAM
Graphics: nVidia GTX 560 or better, AMD Radeon HD 7750 or better
Network: Broadband Internet connection
Hard Drive: 7 GB available space
Sound Card: with 5.1 support
Additional Notes: Mouse, Keyboard