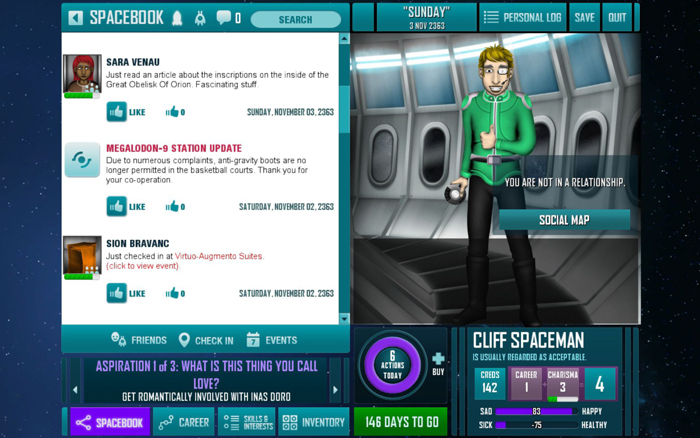 Redshirt (PC)
Redshirt is a comedy sci-fi social networking simulation game. Create & customise your character, a brand new arrival aboard space station Megalodon-9, where you start your career on the lowest possible rung: a Transporter Accident Cleanup Technician. You also realise that everyone on the station is required to use the proprietary social network, "Spacebook"!
You hear rumours something terrible will happen soon aboard the station, and it's up to you to stop being a disposable nobody before it's too late! You can do this by interacting (through Spacebook!) with randomly-generated, AI-driven characters with their own unique personalities, trying to win friends and influence station citizens. Or, you can focus on what skills you need to climb the fairly-extensive career tree. Or, save up your KarmaCreds. Or, flirt your way up the station. The choice is yours, and there are different strategies. You just have a limited time in which to do it, otherwise... terrible things will happen. You are a Redshirt, after all!
Features
Satirical, tongue-in-cheek social simulation, filled with humour and political intrigue.
Detailed character creation: choose from 5 different species, from human to tentacled squid creature!

Each game is unique: Megalodon-9 is full of procedurally generated AI-driven characters, each with their own random personalities and profile pictures.









Customise station settings: define the kinds of personalities you'll encounter, from friendly chatterboxes to self-obsessed bigots.

Update your Spacebook, strategically 'like' statuses, and send private messages to your fellow station citizens.

Arrange Spacebook 'events' with your friends, frenemies, and even higher-ranking officers, to influence your relationships and skills.

Multiple routes to success through turn-based gameplay, from skills-based diligence, to romance, to charismatic schmoozing.

Navigate an extensive, non-linear career tree, by gaining the right skills... or just by making the right friends.

Make friends and manage romantic relationships -- if you can handle the drama!

Strategically manage your interests and skills.

Buy items in the Self-Help Object Purveyor (S.H.O.P.) to increase your stats and skills, from RoboCats to illegal hoverbikes!





Away missions!

Humorous parody of social networking culture.

Puns! So many puns.