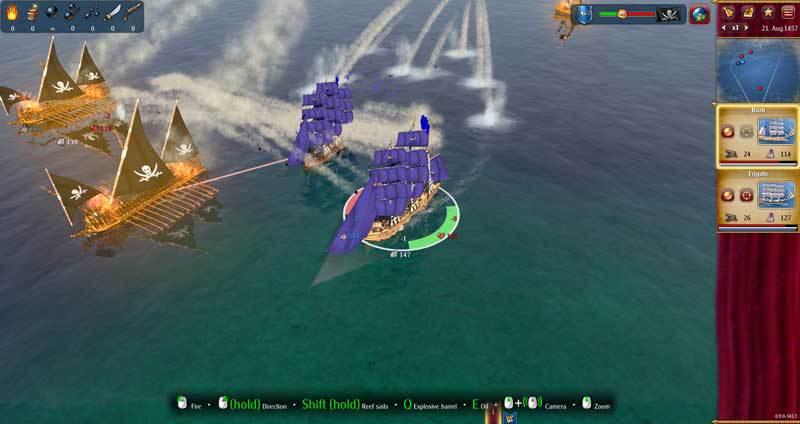 Rise of Venice - Gold Edition
Availability

Out of Stock
NOTICE: Activation key must be used on a valid Steam account, requires internet connection.
GOLD EDITION
---
Rise of Venice
Rise of Venice - Beyond The Sea (DLC)
Rise of Venice - Steamship (DLC)
Rise of Venice - Sea Monsters (DLC)
ABOUT THE GAME
---
Rise of Venice ᄀᄚ Gold Edition
is the comprehensive edition of the award-winning Strategy game Rise of Venice. It features the main game, the official expansion ?Beyond The Sea? and all previously released additional content: including the ?Steamship? DLC and ?Sea Monsters? DLC.
In Rise of Venice, you play as a young man with ambitions of achieving success, power and wealth in Venice at the time of the Renaissance. With the support of your family, you must begin to build up a trading empire across Genua, Tripoli, Rome, Alexandria and Constantinople - in addition to many other significant merchant cities. Through entrepreneurial expertise and maybe even a little Machiavellian intrigue, you must choose between your friends and political allies in order to ascend through the ranks of Venetian society and increase your influence. Create your own fleet, establish production facilities and participate in the political life of Venice. Or venture into challenging battles against pirates, remove competing political rivals and eventually rule as the powerful and illustrious Doge of Venice.
The major add-on ?Beyond the Sea? expands the game world of Rise of Venice by adding 13 new cities and numerous residence missions which are given to the player by his family. It also adds special Doge tasks and the NAO ship class: which Christopher Columbus sailed upon when he first discovered America in 1492
KEY FEATURES
---
In addition to the main game, Rise of Venice - Gold Edition features the official expansion ?Beyond The Sea? and all previously released additional content


Trade a variety of goods in the most important cities at the time of the Renaissance: such as Rome, Alexandria, Marseilles, Constantinople, Casablanca and Athens.


With your own family tree you can interact with other members, send them on missions and watch how the power of your family grows over time.


Meet other important families who are pulling the strings in Venice?s government and influence political decisions yourself.


Build your own production facilities and trading fleets


Take fate into your own hands and test your skills in exciting sea battles


Multiplayer mode for up to 4 players via LAN and Internet


Residence missions: family members contact the player with tasks to earn special benefits
SYSTEM REQUIREMENTS
---
OS: Windows Vista/7/8
Processor: Intel Core 2 Duo-Prozessor or similar
Memory: 2 GB RAM
Graphics: DirectX 10 compatible with 512MB VRAM
DirectX: Version 10
Sound Card: DirectX compatible