SanctuaryRPG - Black Edition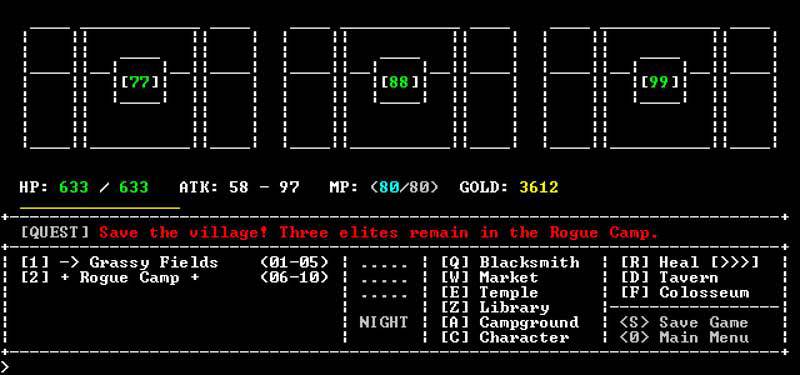 NOTICE: Activation key must be used on a valid Steam account, requires internet connection.
ABOUT THE GAME
---
Set in a retro ASCII-art world,
SanctuaryRPG
is a humorous and strategic turn-based dungeon crawling adventure.
Drawing heavy inspiration from both Roguelikes and Japanese RPGs, the game was meticulously designed to offer a truly compelling gameplay experience fused with a robust action-RPG inspired combat system. Black Edition builds upon the classic formula with all new procedurally generated artwork, as well as a plethora of areas to explore, races to experiment with, skills to master, and loot to collect.
As a valiant hero or a dastardly villian, the fate of Sanctuary is in your hands.
KEY FEATURES
---
Core
Enjoy a blast from the past with retro ASCII graphics


Experience HUNDREDS of hours of immersive RPG gameplay


Travel through vast dungeons with semi-roguelike action


Put your strategies to work with a sleek combat system


Over 320 class and race combinations to experiment with


Wreck your enemies with over a BILLION item combinations


Rock out to an original 8-bit chiptune soundtrack
Bonus
Collect achievements for no reason whatsoever


Forge weapons with a skill-based crafting system


Test your might in a ranked matchmaking mode


Both casual and permadeath game modes


Customize and utilize robotic pets in battle


Fully featured and dynamic economy simulation


Sell craft beers and even run your own tavern
SYSTEM REQUIREMENTS
---
OS: Windows XP
Memory: 512 MB RAM
Hard Drive: 200 MB
Graphics: Integrated Graphics
Sound Card: Integrated Audio
Notes: Toaster-compatible