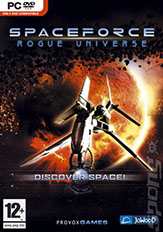 SpaceForce Rogue Universe (PC)
Experience one of the most beautiful, open-ended space simulation games for the PC. As a starship pilot, explore the universe with one of 14 unique and powerful ships. More than 2000 missions await you within 46 star systems in the Milky Way galaxy.
Discover, trade and fight your way through the galaxy - it is up to you to become one of the most famous or infamous pilots in the known universe. It's your life - get out there.
Intriguing and exciting gameplay: non-stop action awaits as you explore and battle your way through the constellations in a variety of star vessels.
An open-ended, beautiful, and innovative 3D space environment populated with stars, planets, moons, asteroids, comets, black holes, star bases, floating cities - all ready for exploration, development, trade, diplomacy, or conflict.
Explore the galaxy as a member of one of 10 civilizations placed on different starting locations across the universe.
Customize ships in your own creative style by upgrading speed, targeting systems, jammers, shields, armor, weaponry, afterburners, cargo space, and weight.
Stunning visuals powered by true 64-bit High Dynamic Range Rendering (HDDR) on supporting video cards for spectacular lighting and special effects.