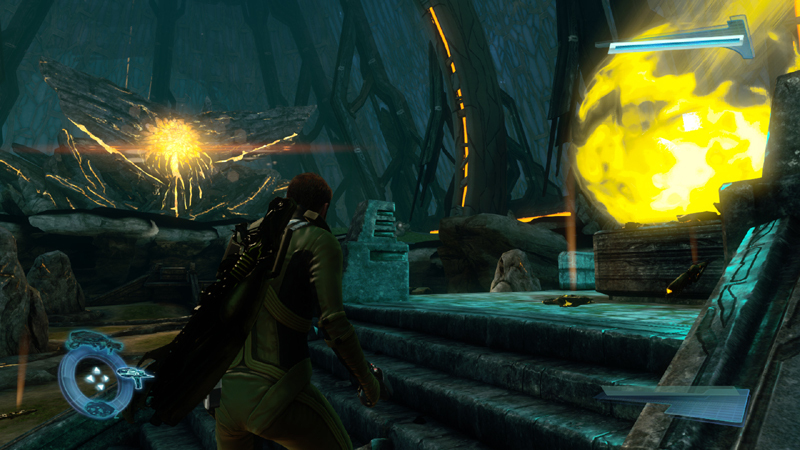 STAR TREK The Video Game
NOTICE: Activation key must be used on a valid Steam account. Requires internet connection.
ABOUT THE GAME
---
Play as two of the greatest science-fiction heroes ever ᄀᄚ Kirk and Spock ᄀᄚ in the award-winning
STAR TREK
, a completely original (online) co-op experience that expands the
Star Trek
universe even further. Set in the 23rd Century world of the massively popular Star Trek reboot, this cover-based shooter immerses players in a rich, original story and action-packed combat.
Developed by acclaimed Ontario-based Digital Extremes (Bioshock 2, Dark Sector, The Darkness 2),
Star Trek
features an original story by BAFTA Award-winning writer Marianne Krawczyk.
KEY FEATURES
---
AUTHENTIC TREK UNIVERSE

MEET THE CREW - The 2009 Star Trek film cast will be contributing their voices for the game, including Chris Pine as Kirk and Zachary Quinto as Spock.


ORIGINAL STANDALONE STORY - Set after the events of the Star Trek (2009) reboot, continue the sweeping journey through the new universe with a completely original story.


EXPLORE - Uncover new areas on the Enterprise and other ships, explore never-before-seen sectors throughout the galaxy including exotic planets, treacherous jungles, remote space stations and other locales.
KIRK / SPOCK ASYMMETRICAL CO-OP PLAY
ULTIMATE CO-OP ᄀᄚ Built from the ground up as a co-op experience, Star Trek packs two vastly different gameplay styles and unique character abilities into one game. The result: the most fully realized and varied co-op experience of this console generation.


KIRK AND SPOCK REBORN ᄀᄚ Play for the first time as two of the most well-known characters in science fiction, as only this new Star Trek game could allow. With the fate of the galaxy on the line, players must rely on each other to create a kick-ass team.
EPIC ACTION ADVENTURE
THE GORN RETURN - Determined to conquer the galaxy, the Gorn returns as re-imagined versions of the classic Trek villains, infecting their foes with venom that can poison, cause hallucinations, and even kill. Ranging in size and abilities, the Gorn seed mayhem and destruction as they destroy populations and deplete planets of their resources.


SCOPE AND VARIETY ᄀᄚ Authentic set pieces and ever-changing gameplay underscore the adventure in Star Trek. Hijack enemy battleships, jump precariously through zero G onto moving spaceships and Swim through subterranean waterways.


23rd CENTURY WEAPONS ᄀᄚ Star Trek employs a wide variety of weapons and gear, putting you in complete control of a huge load out of 23rd Century tech, including unique signature weapons for Kirk and Spock. Combined with your character's special skills, every encounter, every no-win situation will turn out differently based on who, what and how you play.
SYSTEM REQUIREMENTS
---
Minimum:
Operating system: Windows XP SP2
Processor: Intel Core 2 @ 2GHz / AMD Athlon 64 X2 4200+
RAM: 2 GB
Hard disk space: 8 GB
GFX RAM: 512 MB
GFX Card: Nvidia Geforce 9600/ ATI Radeon HD 2900
Audio: Direct X Compatible
DirectX?: DirectX 9.0c
Others : Supports Microsoft Xbox 360? Controller for Windows? ; Supports NVidia 3D Vision
Recommended:
Operating system: Windows Vista or higher
Processor: 2.4 GHz quad core or higher
RAM: 4 GB
Hard disk space: 8 GB
GFX RAM: 1Go or more
GFX Card: Nvidia GeforceGTX 560/ATI Radeon HD 5850 or better
Audio: Direct X Compatible
DirectX?: DirectX 9.0c
Notes : Nvidia 3D Vision compatible.
---
? 2013 Paramount Pictures Corp. TM CBS Studios Inc. STAR TREK and related marks and logos are trademarks of CBS Studios Inc. All Rights Reserved. NAMCO BANDAI Games logo is a trademark of NAMCO BANDAI.