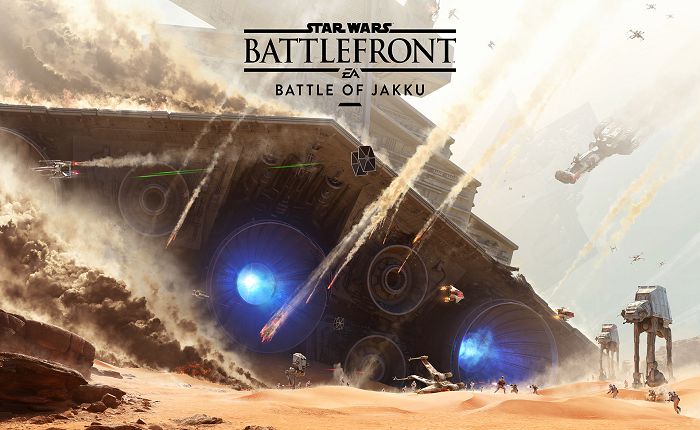 Star Wars Battlefront with Battle of Jakku
Availability

Out of Stock
Take a journey to a galaxy far, far away with Star Wars Battlefront.
The action game, played in both first-person and third-person views, brings all the authentic and traditional sights and sounds from the Star Wars franchise.
Traverse all kinds of planets and locations from the Star Wars Universe, such as the forest moon of Endor, Hoth, Tatooine, Bespin and Sullust, with the introduction of Jakku from the sequel trilogy.
Take to the skies in the Millenium Falcon or even a TIE Fighter, gain an advantage on the ground with a variety of land vehicles including speederbikes and AT-STs. Star Wars Battlefront is here to provide you with a truly unique Star Wars experience.
In the heat of battle, take control of hero characters such as Luke Skywalker, Han Solo and Princess Leia, or journey to the Dark Side with the likes of Darth Vader, Emperor Palpatine and Boba Fett.
Whether you side with the rebels or the alliance, you'll feel every part of the magic from the movies with Star Wars Battlefront.
About the Game
Experience Epic Battles on a Galactic Scale!

Feel the ominous thud of an AT-AT stomping down on the frozen tundra of Hoth. Zip through the lush forests of Endor on an Imperial speeder bike while dodging incoming blaster fire. Engage in intense dogfights as squadrons of X-wings and TIE fighters fill the skies. Immerse yourself in the epic Star Wars battles you've always dreamed of and create new heroic moments of your own in Star Wars Battlefront.
The Battle of Jakku
The Battle of Jakku was the pivotal moment when the New Republic confronted key Imperial holdouts on a remote desert planet.
Taking place in the aftermath of the Rebel victory in the Battle of Endor, players will experience the events that created the massive, battle-scarred landscape of Jakku shown in Star Wars™: The Force Awakens™.
In the artwork above, a Star Destroyer has crash landed, and from the belly of this battle-scarred metal giant, a myriad of Imperial ground troops have evacuated and engaged with Rebel troops, also strangers to this desert planet.
This intensity of battle was one of the aspects that DICE Concept Artist Anton Grandert wanted to convey when creating the Jakku artwork. The size difference between the visual elements was another:
"There's a David and Goliath theme to this," says Grandert. "The epic, huge super structures of the Star Destroyers contrast against the tiny but brave Rebel soldiers fighting the Imperial forces."

Features
Engage in multiplayer battles on a galactic scale. Fight for the Rebellion or Empire in a wide variety of multiplayer matches that support up to 40 players, and seamlessly swap between first-person and third-person viewpoints to experience the action however you wish. Fight alongside your friends online, or in exciting challenges inspired by the films, available for solo or co-op play
Master the battlefield with iconic Star Wars characters. Play as some of the most memorable characters in the Star Wars universe, including Darth Vader and Boba Fett, and encounter a variety of beloved characters from the original trilogy such as C-3PO and R2-D2
Pilot incredible Star Wars vehicles. Hop in the cockpit of X-wings, TIE fighters, and even the Millennium Falcon for some edge-of-your-seat aerial combat. Then take the battle to the ground: Pilot a diverse set of ground-based vehicles including nimble speeder bikes, massive AT-ATs, and more
Immerse yourself in an authentic Star Wars experience. Each battle is brought to life by the original sound effects from the films and amazing digital replicas of authentic Star Wars movie models. Visit classic planets from the original Star Wars trilogy, detailed with an unprecedented amount of realism that will transport you to a galaxy far, far away