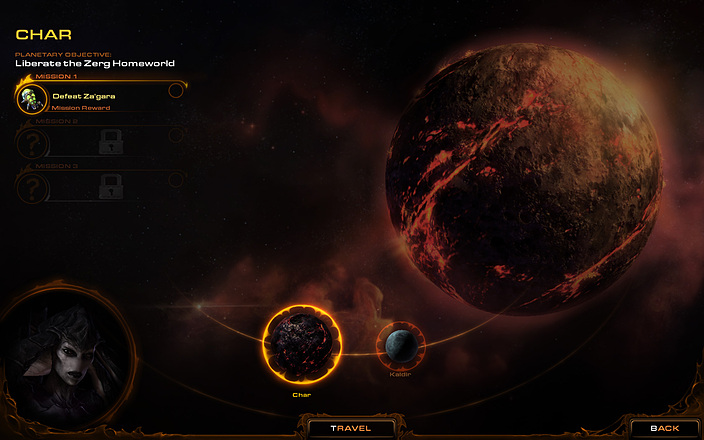 StarCraft II: Heart of the Swarm EU (PC)
Platform

pc

Version

Global
About StarCraft II: Heart of the Swarm EU (PC):
As Queen of Blades, Sarah Kerrigan, you were once the most feared entity in the galaxy. Now, you wait in a cell in the depths of a high-security research laboratory. Before the murderous forces of the Terran Dominion close in, you must plot your escape to the dark reaches of space – and reclaim your living empire at the Heart of the Swarm.
Heart of the Swarm picks up the story of StarCraft II where the 2010 release, Wings of Liberty, left off, focusing on Kerrigan's quest to reunite the Swarm and exact revenge on Arcturus Mengsk. Over the course of 20 campaign missions, players will follow Kerrigan as she sweeps across the galaxy, incorporating a variety of distinctive zerg species into her brood. Kerrigan will grow in strength from mission to mission, and players will be able to customize her with powerful new abilities, as well as evolve various zerg strains into fearsome new subspecies to suit their play style.
Incinerate advancing foes with the Hellbat, seize air superiority with the Tempest, engulf entrenched enemies with the Swarm Host, and more with seven devastating new units.
Embark on a path of furious vengeance in a brand new campaign centered around the Zerg. Unlock Kerrigan's powers in 20 new missions, and swarm from planet to planet aboard your moon-sized zerg Leviathan.
Special Evolution missions allow you to evolve your brood for maximum devastation. You will choose how the Zerg should adapt to best conquer all in their path.
Plus, there are new features that will enhance the game experience in Blitzkrieg 3. There's group and clan systems, as well unranked matchmaking, and Global Play! All of which allow players to battle others in different regions around the world, all to see who is the best. Plus, Heart of the Swarm gives StarCraft II a facelift of sorts with user interface improvements, an enhanced physics system, incredibly visceral looking battles, multiplayer replays that you can enjoy with friends, plus, a level system that'll give more options to players.
Continue the story, and the fight, in StarCraft 2 Heart of the Swarm.