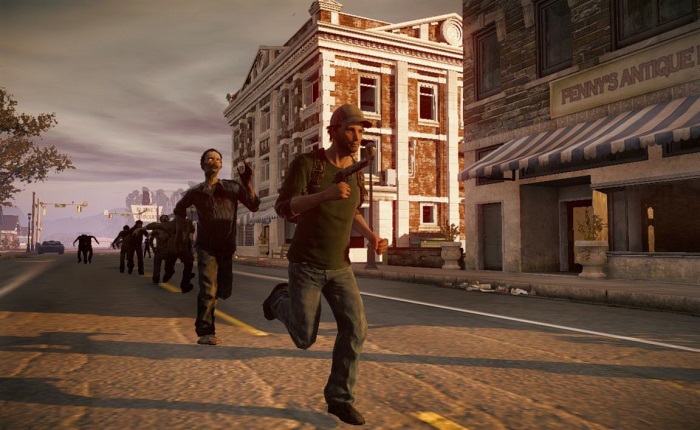 State of Decay Year-One Survival Edition (PC)
About State of Decay Year-One Survival Edition (PC)
State of Decay, along with major Add-Ons Breakdown and Lifeline, is now fully remastered in stunning 1080p. New missions, weapons, and extra content, along with improved lighting, textures, animations and combat mechanics, will pull you even deeper into the post-outbreak world. How will you survive the zombie apocalypse?
Mysterious supply crates start dropping into remote areas across the map, attracting massive hordes of zombies. Wipe out the infestation and you can grab some of the rarest and most powerful equipment seen in State of Decay.
Your favorite characters from Lifeline can now be unlocked in Breakdown, including the previously unplayable Kelly "Sasquatch" Eldridge. Not only do players get a brand-new SUV, but custom vehicle skins are also distributed across all maps for greater personalization.
New weapons such as the Under-Barrel Grenade Launchers and Incendiary Shotguns make their way into the title. Find new assault rifles equipped with under-barrel grenade launcher attachments as well as shotguns that fire incendiary rounds.
Make your stand against the collapse of society in the ultimate zombie survival-fantasy game. Explore an open world full of dangers and opportunities that respond to your every decision. Recruit a community of playable survivors, each with their own unique skills and talents. Design and fortify your base against the relentless hordes of the undead. Perform daring raids for food and ammunition, and do whatever it takes to live another day.
The experience of State of Decay has never been deeper, and with the State of Decay Year One Survival Edition, you're guaranteed to have the most complete version of the game. So, how will you survive? What will you do to ensure you do make it to the next day, and the one after that? You've never had more options to figure out those questions, and you'll do it while looking at the most beautiful version of the game yet.