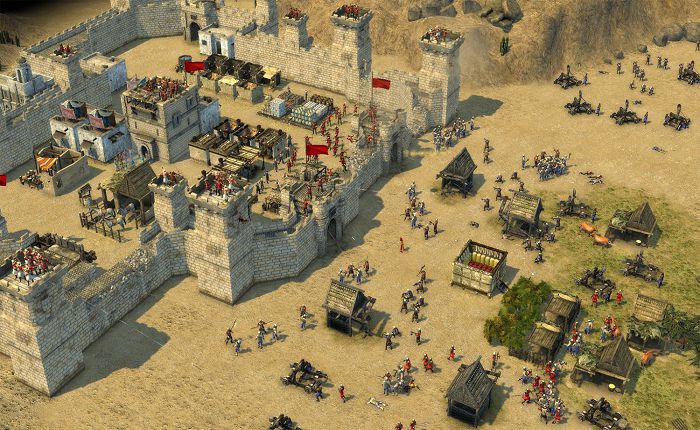 Stronghold Crusader II - Gold Edition (PC)
Availability

Out of Stock
About this Game
Stronghold Crusader 2 is the long awaited sequel to Stronghold: Crusader, the original 'castle sim'. After 12 years Stronghold returns to the deserts of the Middle East circa 1189, with a new 3D engine and realistic castle destruction powered by Havok Physics. Crusader 2 will recapture the original game's addictive, fast-paced gameplay and authentic castle simulation.
True to its roots this new Stronghold will define old school real time strategy, combining RTS and city builder gameplay. Playing as a brutal Crusader Knight or Arabic freedom fighter, you must use a deadly array of troops and destructive siege equipment to decide the fate of the holy lands. Lead your forces into battle as either Richard the Lionheart or the Sultan of Syria in two historic single-player campaigns, with dynamic events such as tornados and locust swarms. Become the greatest Lord by managing your desert economy and seizing control of vital oases.
To dominate the battlefield you will need to command more than 25 unique unit types, mastering their special abilities. Raise morale with the Sergeant at Arms, charge in with the Sassanid Knight, use Archers to launch an arrow volley or scale castle walls with the deadly Assassin. Once your skills have been perfected put them to the test in skirmish mode or take the battle online with up to eight human and AI players.
So, do you have what it takes to not only build your castle and your kingdom but make sure it can stand up to others and theirs? Will you use the full might of your armies to ensure victory? Or will you focus on your own castle to make sure no one gets through it? Victory and defeat will rest on your decisions, make sure you're ready for anything natural, anything man-made, and anything inbetween that can be thrown at you.
Crusader Kings II Gold Edition Includes:
DLC 1 BYZANTINE UNIT PACK
DLC 2 DYNASTY SHIELD I
DLC 3 DYNASTY SHIELD II
DLC 4 LEGACY OF ROME
DLC 5 RULER DESIGN
DLC 6 SONGS OF THE CALIPH
DLC 7 THE SWORD OF ISLAM