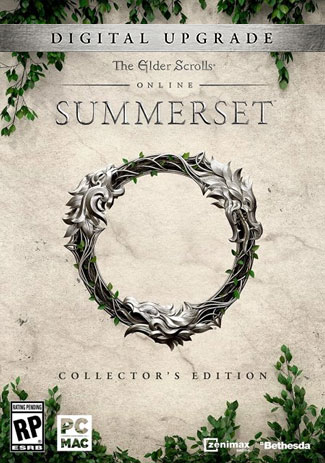 The Elder Scrolls Online: Summerset Collectors Edition Upgrade (PC/Mac)
About This Game
Join over 10 million players in the award-winning online multiplayer RPG and experience limitless adventure in a persistent Elder Scrolls world. Be part of an ever-expanding story across Tamriel and travel to the stunning home of the High Elves in the latest Chapter of ESO to save the world from destruction.
- BEGIN YOUR ADVENTURE – Chaos reigns over Tamriel during the Second Era. The Imperial Throne sits empty as ancient enemies band together to bring ruin to the mortal world. Take up arms and fight for Tamriel's salvation.
- JOURNEY TO SUMMERSET – For the first time in history, the home of the High Elves opens its borders to foreign visitors. Travel to Summerset and unravel a dark conspiracy that threatens the world's very existence.
- PLAY THE WAY YOU LIKE – Battle, craft, steal, or explore, and combine different types of equipment and abilities to create your own style of play.
- JOIN THE PSIJIC ORDER – Travel to the island of Artaeum, seek the aid of this mysterious group of mages, and unlock a new skill line of powerful abilities.
- EXPANDED CRAFTING SYSTEM – Forge potent new gear with Jewelry Crafting and bolster your power. You'll need every advantage to succeed on your quest.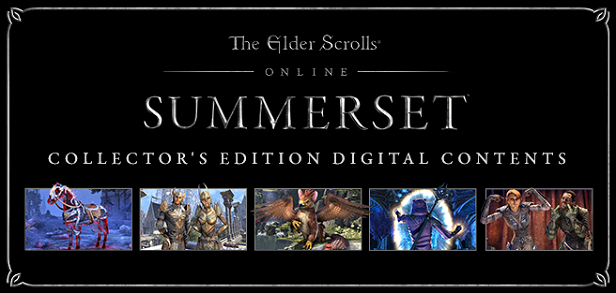 The Digital Collector's Edition includes the Queen's Bounty pack and exclusive bonus content:
- Exclusive Mount: Bloodshadow Wraith Steed
- Exclusive Pet: Fledgling Gryphon
- Emote Pack: House of Reveries
- Exclusive Outfit Style: Divine Prosecution
- Exclusive Memento: Psijic Scrying Talisman
PRE-PURCHASE OFFER
Immediately receive this bonus in-game content today when you pre-purchase The Elder Scrolls Online: Summerset.
- Nightmare Senche Mount – With burning paws and flames hissing from its face, this night-black senche-tiger is truly fearsome.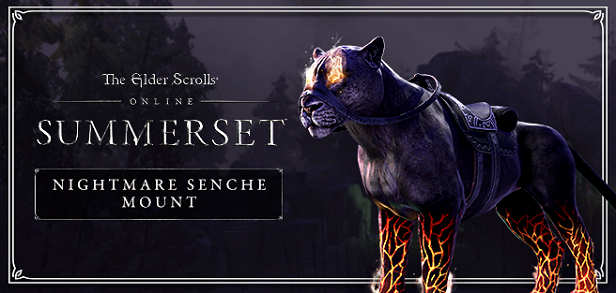 PRE-ORDER BONUS – QUEEN'S BOUNTY PACK: Pre-order to receive a suite of exclusive in-game bonuses, handpicked by Queen Ayrenn herself! Available at launch.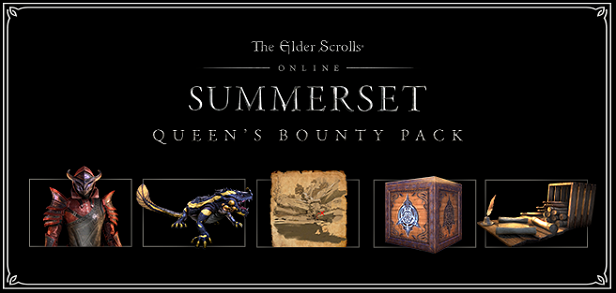 - Court of Bedlam Costume – An exclusive costume with a sinister style, available to all classes.
- Pocket Salamander Pet – Express your inner newt with this non-combat in-game pet.
- Treasure Maps – These ancient maps lead to caches of loot: gear, gold, and other forgotten riches.
- Psijic Order Crown Crate – Open for a chance at Psijic-themed mounts, pets, costumes, and more.
- Experience Scrolls – Receive a 50% experience boost for two hours.