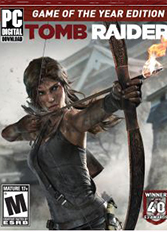 Tomb Raider: GOTY Edition (PC)
You may see region restriction notification when you receive this steam gift,
Please follow the guide in email to accept it. Accept the gift directly may cause redeem problem.
Tomb Raider explores the intense and gritty origin story of Lara Croft and her ascent from a young woman to a hardened survivor. Armed only with raw instincts and the ability to push beyond the limits of human endurance, Lara must fight to unravel the dark history of a forgotten island to escape its relentless hold. Download the Turning Point trailer to see the beginning of Lara's epic adventure.