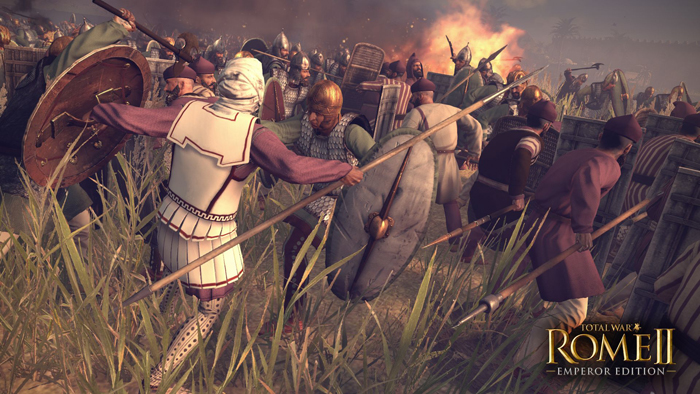 Total War: Rome 2 - Emperor Edition
About the Game
About Total War: ROME II - Emperor Edition:

Emperor Edition is the definitive edition of ROME II, featuring an improved politics system, overhauled building chains, rebalanced battles and improved visuals in both campaign and battle.

In addition, Emperor Edition includes all content and feature updates made available for ROME II since its launch in September 2013. These include Twitch.TV integration, touchscreen controls, new playable factions and units, and Mac compatibility.
The Imperator Augustus Campaign Pack and all Emperor Edition content and features are free, via automatic update, to all existing ROME II owners.

About the Imperator Augustus Campaign Pack

The Imperator Augustus Campaign Pack is a new playable campaign for ROME II, which rivals the original ROME II Grand Campaign in both scope and scale. This campaign comes as part of Total War: ROME II – Emperor Edition and is available as a free, automatic update to existing owners of Total War: ROME II.
The Imperator Augustus Campaign Pack is set in 42 BC during the chaotic aftermath of Caesar's grisly murder. The republic remains whole, but its soul is divided as three great men, the members of the Second Triumvirate, hold the future of Rome in the palms of their hands.

Octavian, Caesar's adoptive son and the heir to his legacy.

Marc Antony, Caesar's loyal friend and most trusted lieutenant.

Lepidus, Pontifex Maximus of Rome and the man who secured Caesar's dictatorship.

With the territories of The Republic divided between them and the military might of Rome at their beck-and-call, the members of The Second Triumvirate are each in a position to make a bid for leadership, and rule Rome as its first – and only – emperor.

However, external forces are on the move, looking to exploit the instability of Rome and expand their own territories. Will you fight as a defender of Rome and defeat the other members of the Triumvirate? Or lead another faction on a campaign of conquest and expansion, and take advantage of the chaos as the Roman civil war rages?

Playable Factions

Players may embark on a new Campaign as one of the following playable factions:
Marc Antony
Lepidus
Octavian
Pompey
Iceni
Marcomanni
Dacia
Egypt
Parthia
Armenia (also now playable in the ROME II Grand Campaign).

How far will you go for Rome?

The award-winning Total War series returns to Rome, setting a brand new quality benchmark for Strategy gaming. Become the world's first superpower and command the Ancient world's most incredible war machine. Dominate your enemies by military, economic and political means. Your ascension will bring both admiration and jealousy, even from your closest allies.

Will you suffer betrayal or will you be the first to turn on old friends? Will you fight to save the Republic, or plot to rule alone as Emperor?

✢ Plan your conquest of the known world in a massive sandbox turn-based campaign mode (supporting additional 2-player cooperative & competitive modes). Conspiracies, politics, intrigue, revolts, loyalty, honour, ambition, betrayal. Your decisions will write your own story.

✢ Build vast armies and take to the battlefield in real-time combat mode. Put your tactical skills to the test as you directly control tens of thousands of men clashing in epic land and sea battles.

✢ Play for the glory of Rome as one of three families or take command of a huge variety of rival civilisations – each offers a notably different form of gameplay experience with hundreds of unique units from siege engines and heavy cavalry to steel-plated legionaries and barbarian berserkers.

✢ See exotic ancient cities and colossal armies rendered in incredible detail, as jaw-dropping battles unfold. Detailed camera perspectives allow you to see your men shout in victory or scream in pain on the frontline, while a new tactical cam allows a god's eye view of the carnage to better inform your strategic decisions.

✢ Extremely scalable experience, with gameplay and graphics performance optimised to match low and high-end hardware alike.
PC System Requirements
Minimum
OS: XP/ Vista / Windows 7 / Windows 8
Processor:2 GHz Intel Dual Core processor / 2.6 GHz Intel Single Core processor
Memory:2GB RAM
Graphics:512 MB DirectX 9.0c compatible card (shader model 3, vertex texture fetch support).
DirectX®:9.0c
Hard Drive:35 GB HD space
Additional:Screen Resolution - 1024x768
Recommended:
OS:Windows 7 / Windows 8
Processor:2nd Generation Intel Core i5 processor (or greater)
Memory:4GB RAM
Graphics:1024 MB DirectX 11 compatible graphics card.
DirectX®:11
Hard Drive:35 GB HD space
Additional:Screen Resolution - 1920x1080
Mac System Requirements
• Operating System: OS X 10.7.5
• Processor: 1.7 GHz Intel Core i5
• RAM: 4 GB RAM
• Hard Drive: 25 GB
• Video Card: 512 MB AMD Radeon HD 4850, NVidia GeForce 640 or Intel HD 4000
• Screen Resolution: 1024x768.

Unsupported graphics chipsets for Mac: NVidia GeForce 9 series, GeForce 300 series, GeForce Quadro series, AMD Radeon HD 4000 series, Radeon HD 2000 series
• Operating System: OS X 10.7.5 (or later)
• Processor: 2nd Generation
Intel Core i5 (or greater)
• RAM: 8 GB RAM
• Hard Drive: 25 GB
• Video Card: 1 GB NVidia 750 (or better)
• Screen Resolution: 1920x1080.

Unsupported graphics chipsets for Mac: NVidia GeForce 9 series, GeForce 300 series, GeForce Quadro series, AMD Radeon HD 4000 series, Radeon HD 2000 series
Über das Spiel
Über Total War: ROME II - Emperor Edition

Die Emperor Edition ist ein unverzichtbarer Teil von ROME II und umfasst ein verbessertes Politiksystem, verbesserte Gebäudeketten, neu ausbalancierte Schlachten und verbesserte Grafiken für die Kampagne und Gefechte.

Zusätzlich enthält die Emperor Edition alle Inhalte und Funktionen, die für ROME II seit der Veröffentlichung im September 2013 bereitgestellt wurden. Dazu gehören die Twitch.TV-Integration, eine Touchscreen-Steuerung, neue spielbare Fraktionen und Einheiten, Mac-Kompatibilität und vieles mehr.

Das Kampagnenpack "Kaiser Augustus" und alle Inhalte und Funktionen der Emperor Edition stehen als kostenloses automatisches Update allen bestehenden ROME II-Besitzern zur Verfügung.

Über das Kampagnenpack "Kaiser Augustus"

Das Kampagnenpack "Kaiser Augustus" beinhaltet eine neue Kampagne für ROME II, die in Umfang und Detailreichtum der großen Kampagne des Hauptspiels ROME II in nichts nachsteht. Diese Kampagne ist ebenfalls Teil der Total War™: ROME II - Emperor Edition und steht als kostenloses automatisches Update allen bestehenden Besitzern von Total War™: ROME II zur Verfügung.

Das Kampagnenpack "Kaiser Augustus" beginnt im Jahr 42 vor Christus während der chaotischen Verhältnisse nach Cäsars hinterhältiger Ermordung. Die Republik hat zwar noch Bestand, aber ihre Seele ist gespalten, denn drei große Männer, die Mitglieder des Zweiten Triumvirats, halten die Zukunft Roms in den Händen.

Octavian, Cäsars Adoptivsohn und Erbe seines Vermächtnisses.

Marcus Antonius, Cäsars loyaler Freund und vertrauter Leutnant.

Lepidus, Pontifex Maximus von Rom und der Mann, der Cäsars Herrschaft sicherte.

Die drei Männer haben die Territorien der Republik unter such aufgeteilt und die Militärmacht Roms steht zu ihrer Verfügung. Somit erheben alle Mitglieder des zweiten Triumvirats ihren Herrschaftsanspruch auf Rom als dessen erster und einziger Kaiser.

Kräfte von außen haben sich jedoch ebenfalls in Bewegung gesetzt und trachten danach, Roms innere Zerrissenheit zur Ausweitung ihrer eigenen Herrschaftsgebiete auszunutzen. Werden Sie als Verteidiger Roms kämpfen und die anderen Mitglieder des Triumvirats ausschalten? Oder werden Sie eine der anderen Fraktionen auf ihrem Eroberungsfeldzug anführen und das Chaos des römischen Bürgerkriegs für Ihre Zwecke zu nutzen wissen?

Spielbare Fraktionen
Spieler können in der neuen Kampagne eine der folgenden Fraktionen spielen:
Marcus Antonius
Lepidus
Octavian
Pompejus
Icener
Markomannen
Dakien
Ägypten
Parthia
Armenien (ebenfalls spielbar in der großen Kampagne von ROME II).


Wie weit würden Sie für Rom gehen?

Die Entwickler der preisgekrönten "Total War"-Reihe setzen neue Maßstäbe in Sachen Qualität und Tiefe in Strategiespielen und heben ihre unverkennbare Mischung aus Echtzeit und rundenbasiertem Spielerlebnis mit Total War: Rome 2 auf ein neues Level. Werden Sie zur größten Supermacht der Welt und befehligen Sie die unglaublichste und gewaltigste Armee der Antike. Herrschen Sie über Ihre Feinde mithilfe militärischer, wirtschaftlicher und politischer Mittel. Ihr Aufstieg wird Ihnen die Bewunderung Ihrer Anhänger bringen, aber auch Gier und Neid anziehen, selbst von Ihren engsten Vertrauten.

Werden Sie unter dem Verrat anderer leiden oder sind Sie derjenige, der sich zuerst gegen alte Freunde richtet? Werden Sie kämpfen, um die Republik zu retten, oder planen Sie das Reich als Kaiser alleine zu regieren?

✢ Planen Sie die Eroberung der bekannten Welt in einer umfassenden rundenbasierten Kampagne (einschließlich kooperativem und kompetitivem 2-Spieler-Modus). Verschwörungen, Politik, Intrigen, Revolten, Loyalität, Ehre, Ambitionen, Verrat: Ihre Entscheidungen bestimmen Ihre eigene Geschichte.

✢ Erstellen Sie gewaltige Armeen und erleben Sie atemberaubende Schlachten im Echtzeitkampf. Stellen Sie Ihre taktischen Fähigkeiten auf die Probe und befehligen Sie Zehntausende Soldaten in epischen Schlachten an Land und auf See.

✢ Kämpfen Sie als eine von drei Familien für den Ruhm Roms oder übernehmen Sie eines der zahlreichen rivalisierenden Völker – ein jedes einzigartig zu spielen und mit Hunderten verschiedener Einheiten, von Belagerungswaffen und schwerer Reiterei bis hin zu Legionären in Plattenrüstung und barbarischen Berserkern.

✢ Erleben Sie exotische und antike Städte sowie kolossale Armeen in unglaublichem Detailgrad, während sich atemberaubende Schlachten vor Ihnen entfalten. Die neue Einheitenkamera erlaubt Ihnen, die Kämpfe aus jeder Perspektive zu verfolgen. Erleben Sie hautnah, wie Ihre Soldaten im Siegestaumel jubeln oder vor Schmerzen schreien, während Ihnen eine neue Taktikperspektive die Draufsicht auf das Kampfgeschehen ermöglicht, die Sie bei Ihren strategischen Entscheidungen unterstützt.

✢ Erleben Sie eine gänzlich skalierbare Spielerfahrung mit optimierter Leistung, unabhängig von Ihrer Systemkonfiguration.
Systemvoraussetzungen (PC)
Minimum
OS: XP/ Vista / Windows 7 / Windows 8
Processor:2 GHz Intel Dual Core processor / 2.6 GHz Intel Single Core processor
Memory:2GB RAM
Graphics:512 MB DirectX 9.0c compatible card (shader model 3, vertex texture fetch support).
DirectX®:9.0c
Hard Drive:35 GB HD space
Additional:Screen Resolution - 1024x768
Recommended:
OS:Windows 7 / Windows 8
Processor:2nd Generation Intel Core i5 processor (or greater)
Memory:4GB RAM
Graphics:1024 MB DirectX 11 compatible graphics card.
DirectX®:11
Hard Drive:35 GB HD space
Additional:Screen Resolution - 1920x1080
Systemvoraussetzungen (Mac)
• Operating System: OS X 10.7.5
• Processor: 1.7 GHz Intel Core i5
• RAM: 4 GB RAM
• Hard Drive: 25 GB
• Video Card: 512 MB AMD Radeon HD 4850, NVidia GeForce 640 or Intel HD 4000
• Screen Resolution: 1024x768.

Unsupported graphics chipsets for Mac: NVidia GeForce 9 series, GeForce 300 series, GeForce Quadro series, AMD Radeon HD 4000 series, Radeon HD 2000 series
• Operating System: OS X 10.7.5 (or later)
• Processor: 2nd Generation
Intel Core i5 (or greater)
• RAM: 8 GB RAM
• Hard Drive: 25 GB
• Video Card: 1 GB NVidia 750 (or better)
• Screen Resolution: 1920x1080.

Unsupported graphics chipsets for Mac: NVidia GeForce 9 series, GeForce 300 series, GeForce Quadro series, AMD Radeon HD 4000 series, Radeon HD 2000 series