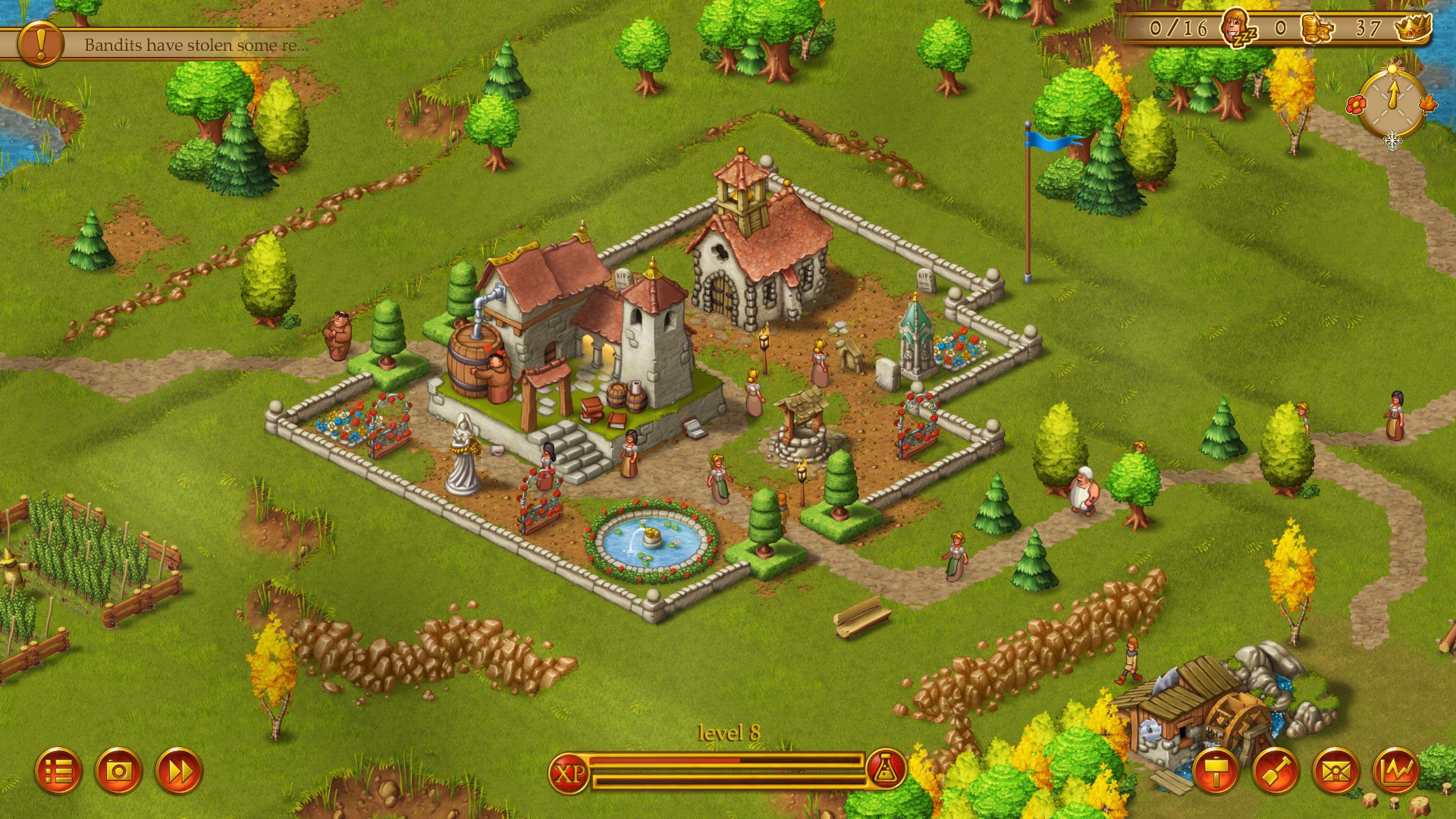 Townsmen (PC)
About This Game
Develop your tiny village to a grand medieval empire with a thriving economy and happy villagers! Find spots for mining ore, harvest the crops of your farms and collect coins as taxes from your folk. Build jousting fields, taverns, marketplaces and beautify your city with impressive statues, magnificent monuments and lush gardens. But there are also dangers lurking close by. Bandits are in the area, looking to plunder and pillage your peaceful town. Build barracks, guard towers and recruit brave soldiers to protect your citizens from harm. You rule the whole empire from your castle and make sure your inhabitants have fun and stay happy!
City-building gameplay set in medieval times. Cute inhabitants with their own daily routines. Complex economy sim and deep production chains. Dozens of different town and production buildings. Optional military feature with soldiers and bandits. Diverse scenarios and challenging tasks. Unrestricted sandbox gameplay mode.Full tablet support.
Seasons: Spring, summer, autumn and winter with new appearances! Weather: Rain, overcast, thunderstorms and blizzards in many variants! New disasters: Lightning, blizzards, large scale bandit attacks and avalanches now endanger your town! 2 new production buildings: Oast house and vineyard! 3 new entertainment buildings: Contest grounds, juggler camp and fairground. 3 new scenarios. 3 new sandbox maps.
Just when you thought that all the city-building games done in medieval times had been made, Townsmen is here to prove that not only is that not true, but that you can do it on your phone in a fun and meaningful way. The freedom of Townsmen is easily one of the highlights of the game, as you'll have full freedom to both run your kingdom, and build it however you want. Do you want to do it a certain way that pleases you? By all means!
Whether you're the best builder ever, or one who has to try things a few times to get it right, Townsmen will give you a pleasurable experience from start to finish.

Features
City-building gameplay set in medieval times
Cute inhabitants with their own daily routines
Complex economy sim and deep production chains
Dozens of different town and production buildings
Optional military feature with soldiers and bandits
Diverse scenarios and challenging tasks
Unrestricted sandbox gameplay mode