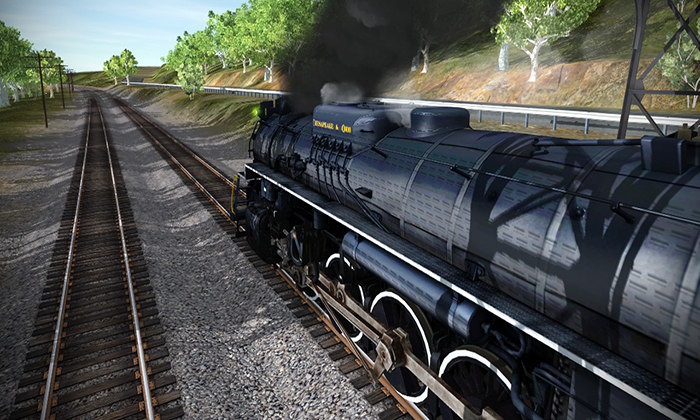 Trainz A New Era Platinum Edition (PC)
Trainz A New Era Platinum Edition
This Game includes: main game + 11 new routes
About This Game
A Journey Like no Other

Trainz: A New Era completely revamps the Trainz series, and takes the train simulation genre to new heights. The all-new graphics engine brings historic and modern routes to life in eye-watering realism. Operate famous locomotives, explore fascinating routes and unleash your creative side designing and building your own routes and Driver Sessions!
Trainz: A New Era will provide even modest train-fans with hundreds of hours gameplay in single and multiplayer.
Share and enjoy your creations with our huge community or use the Download Station to access 250.000+ DLC items created by other Trainz fans worldwide.
Key Features
All-new graphics engine with full world shadows and per-pixel lighting
Multiplayer

Share your enthusiasm with other rail fans and combine your efforts with others to operate a working rail line!
Our most accurate simulation yet with real time world physics and editing tools!


Calculated at 30 times a second, our physics use a variety of configurable inputs such as engine powers, train weight and rolling resistance whilst taking into account factors like track gradient, curve resistance and track adhesion for each train car when accelerating or decelerating. The brand new real time physics editing tools allow players to tune physics 'on-the-fly' to take their simulation's performance even further.

Brand-new Real-time Physics Editing tools enable users to enter known specifications to accurately monitor all the forces at work. Things like tractive effort, drawbar pull or brake pipe pressure can be monitored at a specific point along the train and input values adjusted "on-the-fly". By analysing and tuning performance without leaving the simulation, real-world train characteristics can be matched perfectly. (It's a bit like running a virtual dynamometer car).

If physics aren't your thing, don't worry. You can leave the fine-tuning of your favourite locomotive's performance to the experts whilst still having the choice between 'Realistic Mode' or 'Easy Mode' driving options.
Procedurally animated spline junctions


An updated set of track laying tools are provided in Surveyor to automatically adds frogs/vee, blades, and checkrails in the correct place on the tracks when making a switch, turnout or junction. The blades then animate as the junction direction is changed.
Realistic cab sway and external train motion


Using a new suspension modelling system and additional track and traincar parameters, cab sway and "car rocking" from both internal and external perspective provide more realistic train motion visuals. When running on rough track, cars will wobble and shake independently.
Smoke and weather affected by world objects


New particle effects and collision systems will prevent rain penetrating a tunnel, smoke will billow out from the underside of a bridge or the top of a tunnel and all particle effects will change velocity, direction and flow more naturally.
Tons of Extra Content
Access to over 250,000+ free DLC items via The Download Station
In-game downloadable content system for both payware and freeware options
Create your own routes with powerful in-game level editing tools
Configurable control schemes
Our most expansive soundtrack yet
Never lose your way with the in-game navigation system
Open multiple windows to view and compare items in Preview Mode while creating your world in another window
Incl. 250 page digital user manual - a digital PDF providing detailed information on every aspect of Trainz
Brand new Routes and Sessions

Trainz: A New Era provides a variety of high quality routes - both built-in to the core edition or available as Downloadable Content.

Kickstarter County



Based upon the famous Highland Valley route from the early days of Trainz, Kickstarter County has received a huge upgrade with new content, new track and new industries. This route is a tribute to all our Kickstarter Backers who helped make Trainz A New Era possible and includes a range of customized assets dedicated to our keenest supporters.

Chesapeake & Ohio RR, Hinton Division - (United States, 1950)



Hinton Division, one of the major coal producing areas for the C&O, starting just west of Thurmond, WV through to Hinton, WV and also includes the Laurel Creek Sub Division, and parts of the Piney Creek Sub, Rend Sub and Loup Creek Sub.

ECML Kings Cross - Edinburgh (UK, 1976)



This edition delivers the full route from London Kings Cross Station all the way to Edinburgh in Scotland - a 393 mile drive! With significant updates to almost every feature along the track, the route will take you back in time to relive the diesel and electrification as it was in 1976 UK.

Healesville - (Australia, 1910's)



A faithful recreation of the towns, stations, bridges and rural countryside of 1915 Australia. The line includes many notable features including the 1.6 mile long timber trestle bridge over the Yarra River and flood plains between Yering and Yarra Glen and one of the very few tunnels on the Victorian Railways (at the top of the 'Tunnel Hill' grade between Tarrawarra and Healesville).

Avery - Drexel - (United States, 1970's) - Deluxe Edition



The Milwaukee Road route runs from the end of the electrification in Avery, across the Bitterroot mountains via the St Paul Pass, and all the way to the crew-change point at Alberton. It features Little Joe EF4 electrics and a huge range of seasonal rolling stock, plus both a full summer and winter season version of the route.

Warwick to Wallangarra - (Australia 1990's) - Deluxe Edition



Follow the QR Southern railway line through the Darling Downs and into Granite country, right to the border with New South Wales.

Season Town Northern Rail Road – (East or Middle West USA) - Deluxe Edition



The Season Town Northern Rail Road (STNRR) is based in fictional "Season Town" situated somewhere in the East or Middle West of the USA. The aptly named Season Town supports season change functionality, so control the weather and see how the route responds to snow! The layout provides a short mainline section as well as a 6 mile branch line connecting a limestone mine with a cement plant, as well as a streetcar network consisting of four branches.

The BiDye Traction Railroad – (Someone's Garage) - Deluxe Edition



The BiDye Traction Railroad shows off the versatility of Trainz: A New Era by creating a virtual model railroad for you to explore and enjoy. Built in a large garage in much less time and at a fraction of the cost of the "real thing", Bidye highlights how Trainz can be used by model train fans as well as prototypical fans.
Set up as a short line electric traction railroad serving several inter-dependent industries, the industries served by the railroad include lumber mill, furniture factory, grain mill, commercial bakery, paint and solvent factory, metal can and container factory, and a coal fired electricity plant.