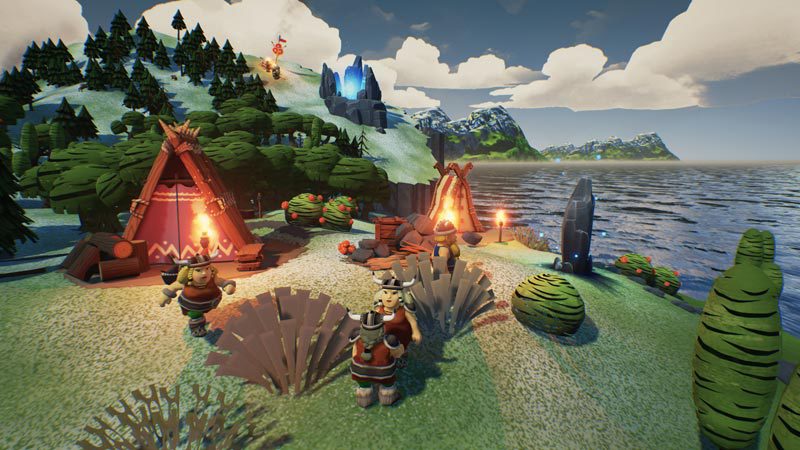 Valhalla Hills
BUILDING EXTENSIONS: We consider making extensions regular buildings to make handling easier.

TOOLS: At the moment, workers build their own tools. For that, they need resources which they also take care of autonomously. If they fail, the reasons for that are not as transparent for the player as we'd like. We consider implementing a craftsman who takes care of making tools and also upgraded versions of them.

MOUNTAINS:
We want the mountains to be even more challenging and give them some more "specials".
We're planning on implementing more mountain-types and come up with scenarios with more mountain-specific elements.

MISSION ENDING: Successfully completing a mission will be improved. We have different ideas and would be happy about players suggestions.

SUPPORTERS: We want to add the possibility to assign Supporters to production buildings. Those units will enhance a building's productivity.

MILITARY:
COMBAT SYSTEM: right now, we have a pretty simplistic combat system, but we want to extend and improve that.
FIGHTING ANIMATIONS: these are subject to improvement as well.
CAMPS: Fighters in camps can't be removed at the moment. We want to change that.

ENEMIES:
We want to implement more diverse types of enemies, maybe even naval enemies.

We consider letting enemies also attack player BUILDINGS. In that sense, we'll also implement special DEFENSIVE buildings.

RETURN TO ASGARD: we want to make the return to Valhalla more meaningful for those Vikings who proved themselves worthy and add more rewards for the player.

SACRIFICES: these are done automatically at the moment, as soon as enough resources are gathered. Players will have to care of this manually in the future.

MUSIC and SOUND EFFECTS: we'll keep working on that.

PERFORMANCE: subject to improvement.

UI AND FEEDBACK: here we want to vastly improve on usability and add more help and information, so players can master the challenges of a functioning settlement better.

What's the current state of the Early Access-Version?
The recent version of Valhalla Hills is by no means final, but it's already a lot of fun nonetheless! Many of the game's elements have already been implemented. You can find details on that in the introduction thread and in the subforum's FAQ under "General Discussion".

How will you try to involve the community in the development process?
We're very thankful for your ideas and feedback! But please understand that we can't give definitive answers top every possible topic at this point. However, submit your feedback, your questions and criticism to this forum, so we can react to it accordingly.



---
NOTICE: Activation key must be used on a valid Steam account, requires internet connection.


ABOUT THE GAME
---
You're spending your whole life to please your gods. You're fighting and dying an honorable death. And now this! The poor Vikings are standing in front of Asgard's gates, waiting to enter Valhalla. But the ungrateful Gods won't give them what they deserve, closing the gates right in front of them.

Although, a true Viking never gives up. If it's impossible to enter Valhalla the traditional way, then why not just walk in there? But the usually pretty strong Vikings don't seem to cope well with the danger and challenges of the mountains. Look after your Vikings, gather food, chop wood and take care of the well-being of your small but growing population. Reach the portal on top of the hills, this is the only chance to get your Vikings closer towards their well-earned reward.

As in classical building games, it's essential to increase the productivity of the Vikings by puzzling out an ambitious and balanced economic system in Valhalla Hills.


KEY FEATURES
---
From the developers of classics like ?The Settlers 2ン and the ?Culturesン-Series.
Be prepared for randomly generated levels with various challenges.
Look after your Vikings' needs.
Improve constantly, use your knowledge and achievements for the next map.
Earn your place in Valhalla, for your Vikings and yourself.



SYSTEM REQUIREMENTS
---
Windows:

Minimum:
OS Version: Windows 7/8 64-bit
Processor: Dual-core Intel or AMD, 2,5 GHz or faster
Memory: 4 GB RAM
Graphics: NVIDIA GeForce 470 GTX or AMD Radeon 6870 HD series card or higher
Direct X Version: DirectX End-User Runtimes (June 2010)
Disk Space: 3 GB HDD
Sound Card: Onboard

Recommended:
OS Version: Windows 7/8 64-bit
Processor: Quad-core Intel or AMD, 2,5 GHz or faster
Memory: 8 GB RAM
Graphics: NVIDIA GeForce 960 GTX or AMD Radeon R9 280 HD series card or higher
Direct X Version: DirectX End-User Runtimes (June 2010)
Disk Space: 3 GB HDD
Sound Card: Onboard
---
? 2015 Daedalic Entertainment GmbH and Funatics Software GmbH. Daedalic and the Daedalic-Logo are trademarks of Daedalic Entertainment GmbH. All rights reserved.